Big audio dynamics
Sean Bean is magnetic as the brooding Lord Eddard Stark, while Mark Addy steals scenes as his corpulent King. In truth, pretty much the entire ensemble cast deserve kudos, with Peter Dinklage's Emmy and Golden Globe winning turn a widely recognized standout. Just don't get too attached to any of the characters, they might not be around for long.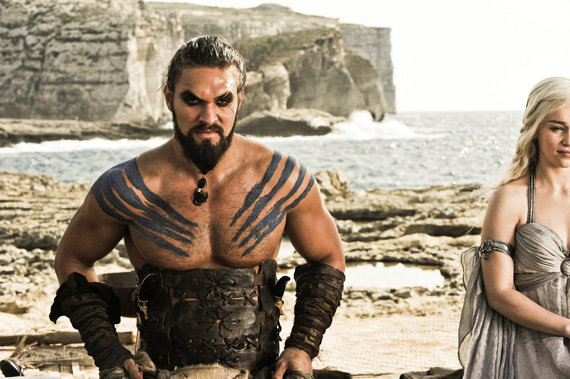 Only Jason Momoa can pull off this look
Not only does the show look terrific on Blu-ray, it also sounds excellent thanks to a rollicking DTS-HD master Audio 5.1 mix. Traditionally, soundtracks for TV content don't enjoy quite the attention to detail lavished on movies, because time and budget preclude it.
But you'll not notice any economy in the sound design here, thanks to pervasive atmospherics and immersive image placement. Dialogue also benefits from the improved dynamics, important for a show that's so wordy. 
Of course, for Thrones fans (Thronies? Throners?), perhaps the most compelling reason to bag this set is the supplemental material, of which there's plenty. The collection makes good use of Blu-ray's inherent interactivity.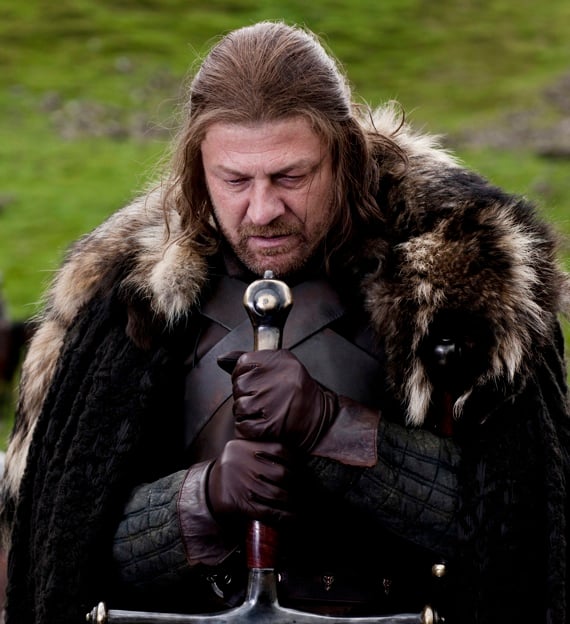 The Perilous Persuits of Mr. Bean
Seven of the ten episodes come with rambling, entertaining commentaries from an assortment of creators and stars, including David Benioff, D.B. Weiss, George R.R. Martin, Peter Dinklage, Lena Headey and Bryan Cogman.
There are also copious features, including an excellent 30 minute making-of documentary that's tightly cut and spoiler-packed, and an interactive guide to the show's mythology. This digital crib sheet is useful for those that haven't immersed themselves in Martin's written world, and goes some way to explaining the animosity between the Houses of Stark and Lannister.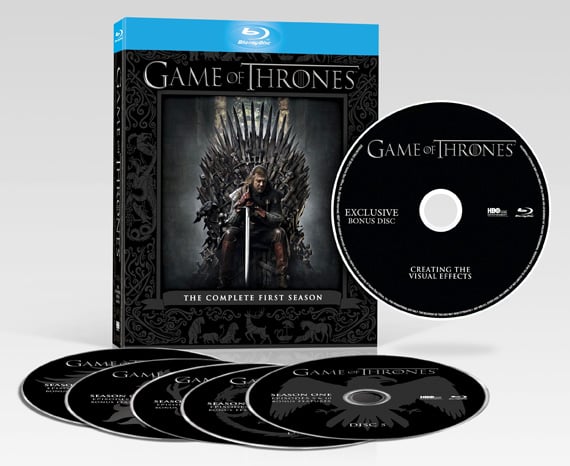 Fast and furriest
You also get to learn more about the Night's Watch, bone up on key characters, and get an insight into how the opening animation of Westeros – so wonderfully spoofed recently in The Simpsons – was created.
Verdict
Overall, this lavish package comes heartily recommended. If you're already a George RR Martin convert, you'll need little encouragement to invest, but I'd also recommend this set to the HBO curious. If you're more a fan of The Sopranos than swords and sorcery, you'll be pleasantly surprised at just how involving the drama is. This is one box set well worth losing your head over. ®
More Blu-ray Movie Reviews…

Akira remastered
Blu-ray disc set
Star Wars:
The Complete Saga
Blu-ray disc set
Jurassic Park
Ultimate Trilogy
Blu-ray disc set
The Lord of the Rings Trilogy
Extended Edition
Blu-ray disc set
Tron: Legacy
3D Blu-ray disc set
Game of Thrones Blu-ray disc set
HBO's adaptation of George RR Martin's medieval fantasy gets the Blu-ray box set treatment.
COMMENTS
Re: "even the movies often fail to get the genre right."
Sean,
You don't like a lot of popular fantasy; fair enough.
You seem to want to:
a) convince the world that things they enjoy actually suck
b) redefine a genre into something less popular / different.
Telling people that, essentially, their tastes suck and yours are awesome isn't really a winning strategy. Nor is it going to make you any friends.
I guess my point is: grow up.
Undoubtably a good series
But at £45 for one series (10 episodes) which is unlikely to get more than a couple of viewings, are they seriously expecting people to splash out for this rather than download the episodes. They may claim that piracy is killing the industry, but this is arguably a fine example of price-gouging doing a better job of it.
Re: Best ever?
I think you will be very pleasantly surprised when you get a chance to see the TV version. Martins style of writing it in chapters from the viewpoint of a single character makes it particularly easy to translate to the screen. Series 2 started transmission last Sunday, so they'll be on a torrent near you soon.
Re: Undoubtably a good series
I got it for £37 off the shelf at Tesco, which is perfectly good value and does everything I need to do to encourage HBO to commit to many more of the same. If you're too miserly to drop that much, go and download it and I'm sure you'll be back here later moaning about the lack of quality TV.
Does anyone else think that Jaime Lannister looks like the prince from Shrek?