Adam Sandler's cross-dresser shocker is Razzies stonker
Jack and Jill sweeps all ten movie dishonours
Adam Sandler's cross-dressing "comedy" Jack and Jill made a little bit of movie history over the weekend by scooping all ten Razzies, with the actor sensationally picking up both Worst Actor and Worst Actress awards.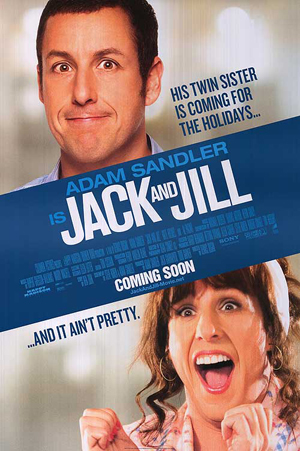 The 32nd "antidote to Tinsel Town's annual glut of self-congratulatory awards" also honoured Sandler's "twaddle-fest" with Worst Picture, Worst Supporting Actor (Al Pacino), Worst Supporting Actress (David Spade as "Monica"), Worst Screen Ensemble (The Entire Cast of Jack and Jill), Worst Director (Dennis Dugan), Worst Remake, Rip-Off or Sequel (for its debt to Glen or Glenda), Worst Screen Couple (Adam Sandler and EITHER Katie Holmes, Al Pacino OR Adam Sandler) and Worst Screenplay (Steve Koren and Adam Sandler).
Colombia Pictures' summary of the cinematic train-wreck explains: "Jack Sadelstein (Adam Sandler) is a successful advertising executive in Los Angeles with a beautiful wife (Katie Holmes) and kids, who dreads one event each year: the Thanksgiving visit of his identical twin sister Jill (also Adam Sandler). Jill's neediness and passive-aggressiveness is maddening to Jack, turning his normally tranquil life upside down."
A quick shufti at Rotten Tomatoes shows that the critics weren't taken with the movie. Lou Lumenick down at the New York Post said: "It's pretty sad if you're a comic and Al Pacino is the funniest thing in your movie."
Ed Gibbs of the Sydney Morning Herald opined: "Jack and Jill is hastily assembled, uneven and severely lacking in charm and laughs, making it one of Sandler's weakest outings to date. Which is saying something."
Graham Young at the Birmingham Mail, suggested that Colombia should have dispensed with the tagline "His twin sister is coming for the holidays... and it ain't pretty" in favour of: "Two Adam Sandlers for the price of one... and neither of them is pretty. Or funny."
Ouch. Sandler's Razzie achievement surpasses even that of Lindsay Lohan and I Know Who Killed Me, which in 2008 picked up eight Golden Raspberry trophies. Until our favourite bespeckled thespiatrix took to the Razzie podium, the greatest number of dishonours was jointly held by Showgirls and Battlefield Earth, with seven apiece. ®
Sponsored: Minds Mastering Machines - Call for papers now open