Core issues
That's not to say dual-core Tegra 2 and OMAP 4 machines don't do the job because they do, but Tegra 3 devices do everything much faster and are just as careful with the power thanks to that clever fifth virtual core.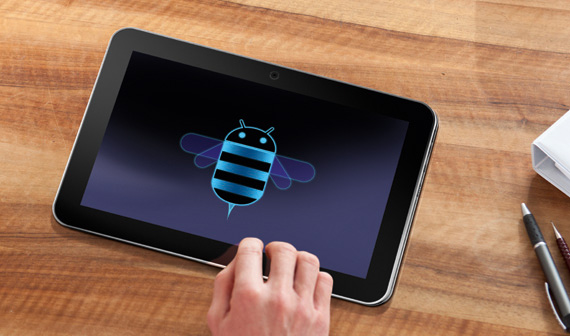 No Ice Cream Sandwich – boo!
By way of balance I should point out that the GPS worked perfectly on the AT200, something that couldn't be said of the Transformer Prime and the two 1.5W loudspeakers are amongst the better I've heard fitted to an Android tablet.
Nothing to complain about with the cameras either, which, at 5Mp front and 2Mp back, are par for the course in spec and performance while the webcam works with Skype video calling.
Toshiba reckons the AT200's anonymous battery is good for 8 hours of video playback. Looping a 720p MP4 file with the screen at maximum brightness got me to the 6hr 45mins mark before the curtains fell, which isn't far off. As with the Samsung Galaxy 10.1, getting to the ten-hour mark in day-to-day use is no real challenge.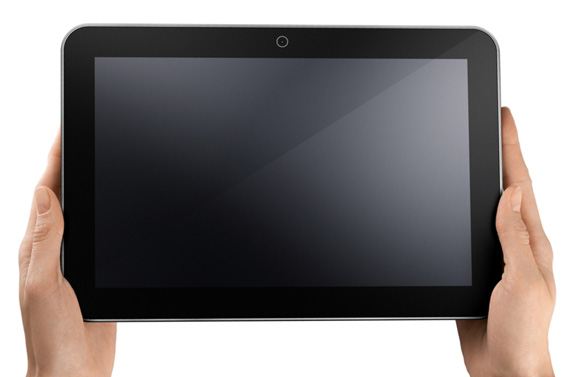 Well made, but a bit late to the party and pricey too
Incidentally, for good or ill the AT200 is a Carphone Warehouse exclusive in the UK for the time being.
Verdict
At £399 for the 16GB version the AT200 isn't great value when for an extra £100 you can have the 32GB Asus Transformer Prime with a keyboard dock and performance that simply blows the Toshiba out of the water. If you can live with the extra girth and weight a 32GB Motorola Xoom can be picked up for £250, also from Carphone Warehouse. In short, a nice machine but one launched half a year too late and costing £100 too much. ®
More Tablet Reviews

Apple
New iPad
Wi-Fi only
Lenovo
Thinkpad
Tablet
Motorola
Xoom 2
Media Edition
Ten high-end
Android
tablets
Sony
Tablet P

Toshiba AT200 Excite
Beautifully made, slim and light dual-core Android Honeycomb tablet.
COMMENTS
ASUS + ICS = <3
Judging a technology company by it's support is like judging a restaurant by it's service. Both will vary immensely depending on who you're dealing with and what kind of day they've had. It's the device and software (or food) that you're after. As a one-man IT department in the SMB space I've had good and bad experiences with any manufacturer you'd like to come up with. In our office with have about a dozen Transformer TF101s and 2 Primes (for the execs). ICS runs flawlessly on all of them, built in VPN is transparent to the user, and I get to apply chrome group policy to every device and desktop at once. I was impressed enough with the TF101 I bought one myself. My non-techie wife liked it so much she went out and got an ASUS laptop. That too works great.
At work we also have a few iPads and one iPad2, but they pretty much just sit in the cabinet. They can't run our custom in-house apps and are basically only useful as toys in the break room. You are right to suggest that Honeycomb is an immature OS, even Google has admitted as much, but don't lump ASUS in with Toshiba's clearly colossal failure.
Spec is fine
We don't need crazy quad cores just to browse the web.
That said, the cost is too high.. and Honeycomb? Oh dear.
Slash £150 off and toss ICS on it and you have a nice piece of kit.
Re: Thinner...
You're making the assumption he's a fanboi, because he did a downer on Android?
Maybe he's just an Anti-fandroid?
Exactly right
I bought a 32GB Xoom from CPW last week for £250. Pretty good value I reckon, was a toss up between that and a PlayBook but wanted a 10 incher. Yes the Tosh is thinner and lighter but so what? Like the review says, too much, too late.
So a 2011 speced tablet launched in 2012?
See title, seems to be a bit pointless.
It's not fast enough for a current model, and is overpriced for budget one!?