Honeycomb centre
The rather conservative design is matched by the colour scheme. The back and sides are brushed metal, the latter divided by a black vanity strip while on the front a black bezel surrounds the 1280 x 800 Gorilla Glass LCD screen. The metal makes it feel a bit cold but that's the only aesthetic grumble I have.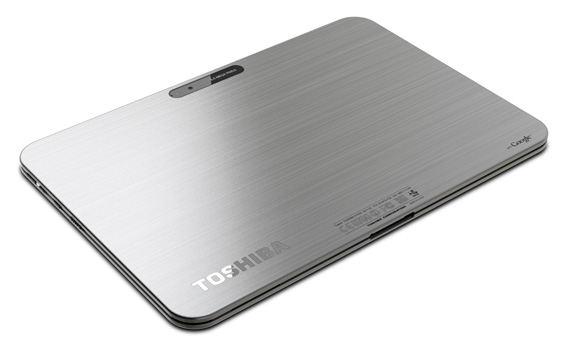 Polished metal at the back with an orientation lock
The Toshiba TruBright screen itself isn't the brightest I have ever encountered on an Android tablet, despite the name – blacks look blacker on a PlayBook but viewing angles are robust and colours well saturated.
Inside things are similarly less than ground-breaking. Hauling the coal is a 1.2GHz TI OMAP 4430 dual-core chip with 1GB of RAM, exactly the same as you will find in a Motorola Xoom 2. The OS is the same too, stock Honeycomb 3.2 rather than the more desirable Ice Cream Sandwich.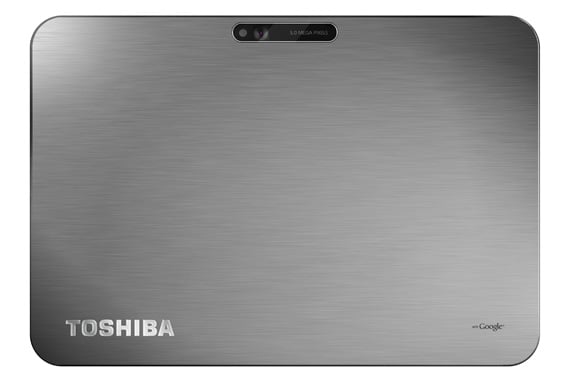 Cameras on tablets..? Whether you use it or not, they've all got 'em these days
At the time of writing Toshiba hasn't stated unequivocally that the AT200 will get an ICS update. I'd not buy one until it does. But it's the CPU that's the real rub because the quad-core Tegra 3 chipset in the Asus Transformer Prime has moved the game on for high-end tablets and by quite some margin.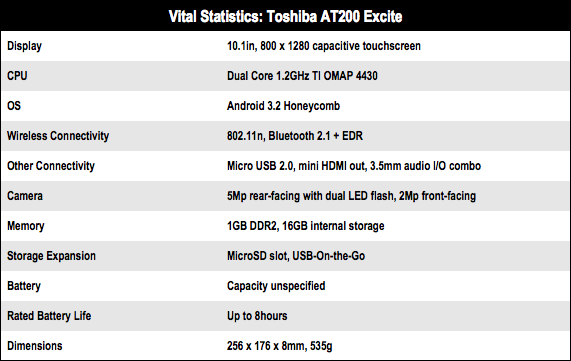 COMMENTS
ASUS + ICS = <3
Judging a technology company by it's support is like judging a restaurant by it's service. Both will vary immensely depending on who you're dealing with and what kind of day they've had. It's the device and software (or food) that you're after. As a one-man IT department in the SMB space I've had good and bad experiences with any manufacturer you'd like to come up with. In our office with have about a dozen Transformer TF101s and 2 Primes (for the execs). ICS runs flawlessly on all of them, built in VPN is transparent to the user, and I get to apply chrome group policy to every device and desktop at once. I was impressed enough with the TF101 I bought one myself. My non-techie wife liked it so much she went out and got an ASUS laptop. That too works great.
At work we also have a few iPads and one iPad2, but they pretty much just sit in the cabinet. They can't run our custom in-house apps and are basically only useful as toys in the break room. You are right to suggest that Honeycomb is an immature OS, even Google has admitted as much, but don't lump ASUS in with Toshiba's clearly colossal failure.
Spec is fine
We don't need crazy quad cores just to browse the web.
That said, the cost is too high.. and Honeycomb? Oh dear.
Slash £150 off and toss ICS on it and you have a nice piece of kit.
Re: Thinner...
You're making the assumption he's a fanboi, because he did a downer on Android?
Maybe he's just an Anti-fandroid?
Exactly right
I bought a 32GB Xoom from CPW last week for £250. Pretty good value I reckon, was a toss up between that and a PlayBook but wanted a 10 incher. Yes the Tosh is thinner and lighter but so what? Like the review says, too much, too late.
So a 2011 speced tablet launched in 2012?
See title, seems to be a bit pointless.
It's not fast enough for a current model, and is overpriced for budget one!?