Best Buy shuttering 50 stores, laying off staff in $800m cost slash
Bloodied by retreat from Europe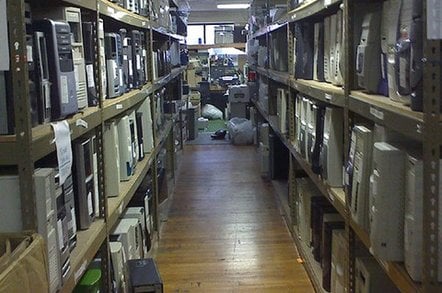 Months after beating a retreat from the UK struggling retailer Best Buy is to shutter 50 stores in the US as part of a multi-year $800m (£500m) cost reduction programme.
The experiment in Blighty which cost Best Buy and its joint venture partner Carphone Warehouse (CPW) £200m ended in January but the after effects were felt in fiscal fourth quarter numbers.
The firm on Thursday night posted a net loss of $1.7bn (£1.06bn) compared to profits of $651m a year earlier including $2.6bn in charges for purchasing CPW shares in Best Buy Mobile, a non-cash impairment charge to "reflect the write off of Best Buy Europe", and restructuring charges relating to the closure of the big box pilot stores. Sales were up three per cent to $16.6bn.
Traditional bricks and mortar retailers are under immense pressure stateside and in Europe where Dixons Retail is closing stores, Game went into administration and Comet was offloaded to VC Op Capita.
Best Buy is planning to slash costs by $800m by 2015 including shedding $300m through stores closures, expunging $300m from the corporate and support structure and $200m from cost of goods sold.
Specifically this means shuttering 50 big box stores in fiscal 2013, eking out IT services savings, procurement savings on non merchandise purchases and a reduction in 400 corporate and support staff and outside consultants.
A store transformation exercise to the Connected Store format is also planned with smaller square footage, another 100 Best Buy Mobile outlets are in the offing and the group intends to invest in China.
At Dixons, John Browett grasped the nettle with both hands and rammed through a radical store transformation programme: he was judged to have a done a pretty good job, good enough for Apple to come knocking.
Best Buy said it wants to improve the customer experience of shopping in its stores saying it will expand loyalty benefits, whether that is enough to slow down the rush of consumers shifting to online purchases is a mute point.
Brian Dunn, CEO at Best Buy, said it intended to invest cost savings into "new and improved customer experiences and competitive prices - which will help drive revenue".
"Over time we expect some of the savings will fall to the bottom lime," he added. ®
Sponsored: Minds Mastering Machines - Call for papers now open