Griffin Reserve Battery Case
Keep your iPhone topped up
Accessory of the Week If you're anything like me and use your smartphone for everything from arguing on Twitter to watching the latest episode of Homeland on the train to work, you'll find yourself re-charging its battery daily.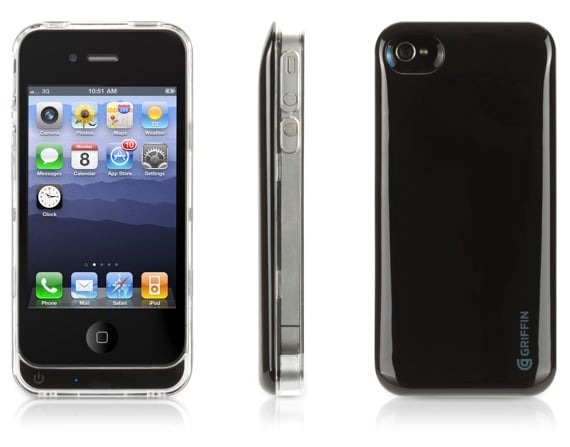 Forget to do it, and you'll run out of steam, just when you need to make that important call or fire off that hilarious Tweet that's just popped into your head.
Griffin's battery case aims to solve that. It provides a robust hard-shell case for an iPhone 4 or 4S and, when fully-charged, gives you hours more battery life.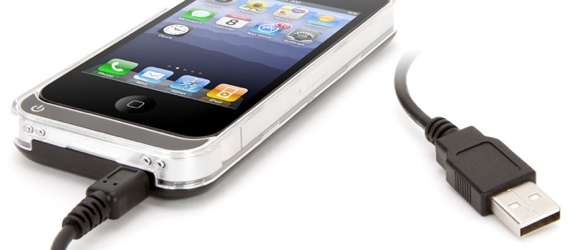 Griffin says that the Reserve will provide up to 9.5 hours' power for listening to music, 5.4 hours for watching video and 3.1 hours for making calls. That's about 65 per cent of the iPhone's own battery capacity.
It comes with a micro-USB-to-USB cable for charging and two interchangeable frames: one black and one transparent. When you plug it in with the iPhone in situ, it charges the phone first, then its own 1450mAh battery.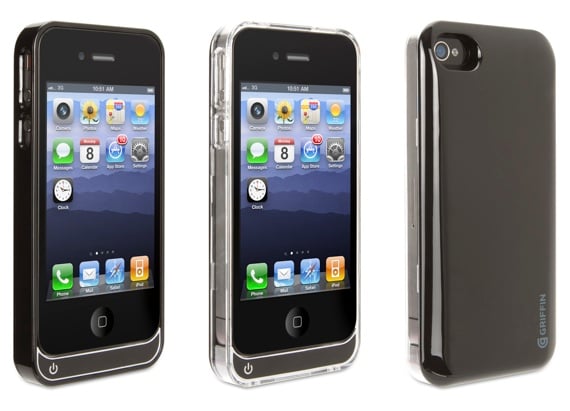 There's a handy LED gauge to show you how far it's charged and a power button so that you can switch it off when you don't need it. It adds very little bulk to the iPhone so you can happily leave it permanently attached, though you'll need to remove it if you want to use the Dock connector for anything else - it's one downside.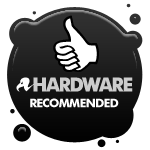 Robust, aesthetically pleasing and unobtrusive, this is the best battery case I've seen yet. If you find your iPhone running low on power regularly, it's well worth considering. ®
Reg Hardware chooses its Accessory of the Week every Friday. Got one in mind you want us to consider? Please let us know
More Accessory of the Week Winners

Arcam rDock
TDK BA100
Scosche MyTrek
Belkin Power
Pack 4000
Belkin
Keyboard Folio
COMMENTS
Re: WTF?
If you use it heavily and find the battery life is not long enough for your individual needs then yes, lard it up with a strap-on as you put it.
If your usage means it doesn't need it then don't, it's a choice.
Luckily for me, my phone's battery lasts long enough that I wouldn't need it but if your doesn't then it's a possible solution. Another would be to buy a different phone, one that does what you need it to for as long as you need it to.
Downside
As downsides go, though, that's pretty major. My iPhone spends the night on a bedside radio, then gets moved to a USB cradle in the home office for syncing, then to an amplifier in the bathroom while I shower, then to a custom connection to the head unit in my car for the drive to work.
Each of these devices uses the dock connector. Having to remove the case each time would be impossibly restrictive. A shame, because this is one of the better looking battery cases I've seen.
Alternative
I got a multi device secondary battery off Ebay for 12.99. It's doing a stirling job. Not suitable to be left attached all the time but it's got enough juce to top up the iPhone and iPad not to mention adapters that mean I can top up my work phone or even 3DS if the need arises.
Anyone recommend an alternative for other makes of smartphones?
Even if its not in a snap-in case. Would like a plug in rechargeable battery for my HTC.
Almost there...
just needs bigger capacity battery combined with their mil-spec case, then you can use it and abuse it away from the office for longer.
(and how about a yellow inner casing ;p to make it more visible)
HELLOO IM IN THE MIDDLE OF NOWHERE ON THE PHONE !!!