Wags unroll Twitter toilet paper
From blog to bog
A startup has crapped-in on the social network fad, offering toilet paper custom-printed with the Twitter feed of your choice.
Yes, the aptly named Shitter service takes a stream of Tweets from a Twitter account and reproduces them in bog roll form.
A trending bathroom accessory, perhaps?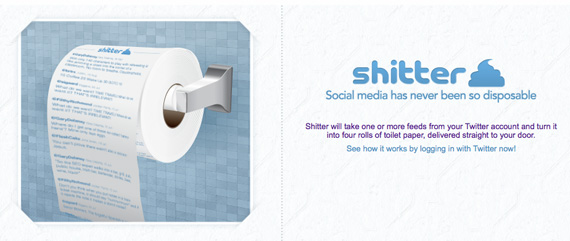 The Tweet sheets can be based on any Twitter feed - even Shitter's own - including your own personal posts, as well as timelines, favourites and custom lists.
At $35 (£22) for a pack of four, the rolls are on the pricey side, although every time you spend a penny, you'll be encouraged to drop a pound, so to speak.
So if you're getting fed up with the endless barrage of Tweets and have considered wiping your account, why not let the flood of 140-character quips help wipe you instead? ®
Sponsored: Application managers: What's keeping you up at night?