World IT sales up 15 per cent in Q4 ... er, 5 if you remove Apple
Giant rollneck-clad fatty scoffs all the growth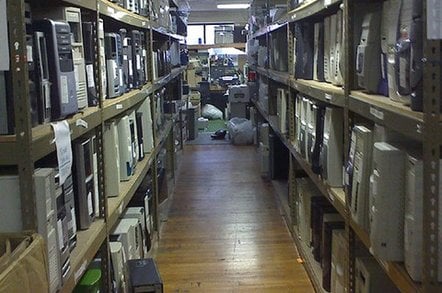 The tech sector fared well in Q4 largely due to channel bullyboy Apple's unstoppable sales juggernaut - but IT distributors are missing out on this boom.
According to the Tech Titan Index by beancounter Canalys, the combined sales growth of Cisco, Dell, EMC, Google, HP, IBM, Intel, Lexmark, Microsoft, Oracle, SAP and Apple was 15 per cent in 2011.
Extract the fruity Foxconn-rebranding firm from the numbers and growth was limited to just five per cent, the analyst said.
"Five per cent growth in Q4 is still pretty respectable but not quite as dramatic so what is also clear is that Apple is taking a huge chunk of the IT industry growth right now," said Steve Brazier, CEO at Canalys.
In the same three-month period, distribution declined one per cent as a sector worldwide, and was facing a "tougher time than the overall IT industry," Brazier added.
There were a couple of "mega trends" that shaped distie numbers, according to the bean counter boss: "One is Apple; love them or hate them, Apple does use distribution but not in the way that Acer, HP or Samsung does.
"Apple is doing quite a lot of business direct too and direct is growing a little bit faster than indirect so some of the growth Apple is giving to the industry isn't coming via distribution."
Meanwhile, wholesaler revenues are being limited partly because major software vendors, including Microsoft and Symantec, are selling software online.
"How they manage that going forwards in a download app world will be interesting and complex. Distribution may have a role there, but they will have to fight hard to keep hold of it," said Brazier.
"Apple and the content industry are acting against distribution," he added.
Enterprises going mobile, data centre transformation and consumerisation of IT are forecast to be the largest industry growth drivers for 2012, concludes Canalys.
The major challenges facing the channel included the economy - although resellers believe the market has improved in the last three months - changing IT consumption models, managing cash flow in the move to services and a skills shortage in areas including HTML5 apps. ®
Sponsored: Minds Mastering Machines - Call for papers now open