Net worker
Arm-strength draining, then, and battery draining too. Using the iPad 3 on a cellular network will suck extra power, enough to knock an hour or so off your runtime. You can switch the cellular radio off - switch on Airplane mode, but turn on Wi-Fi.
But if you're going to be turning off cellular for long periods, you should ask yourself if you need it at all. I use my smartphone or a pocket 3G router, either of which will work as a hotspot, when I need net access away from a Wi-Fi network. And it means I can make do with a cheaper, lighter iPad.
Sample Shots
But if you do want 3G built in for convenience, the iPad 3 will do the job nicely, if my testing with Three's network was anything to go by. Speedtest.net results came in as good as I'd expect from the locations I test it in.
As a Wi-Fi device, the iPad is impressive, supporting not only 2.4GHz 802.11n and older Wi-Fi specs, but also 5GHz operation - handy if, like me, you like an uncongested home network. I didn't experience any of the Wi-Fi signal dropout reported by some users, either on my 5GHz WLAN at home or the 2.4GHz network at Vulture Central.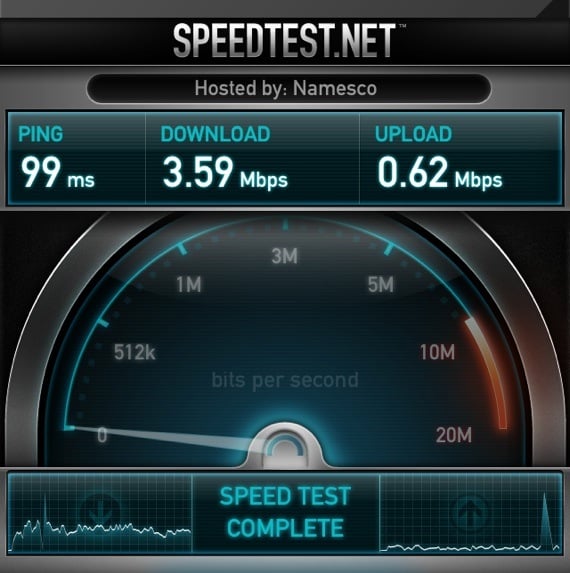 No 4G? Maybe, but the iPad 3's 3G speed is decent enough
Like the iPhone 4S and the most recent MacBook Air, the iPad 3 supports Bluetooth 4.0, but that's unlikely to matter much. Rest assured, it's compatible with Bluetooth 2.1, which is what 99 per cent of the Bluetooth accessories you're likely to want to use with the iPad 3 connect by.
I had no trouble getting the iPad 3 to talk to my Philips Fidelio speaker for some wireless music streaming.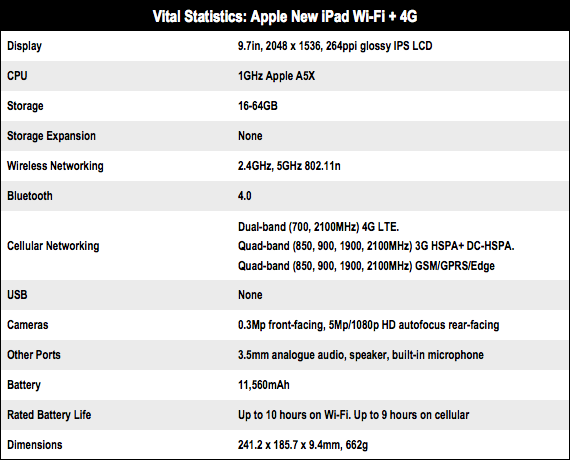 COMMENTS
Question not answered in the review...
If the author didn't own any tablet, would he spend the £79 more on the iPad 3 or just get an iPad 2... he's tried both and should have a view on that... we can tell he prefers a WiFi only version (with the use of an external 3G card - it has the added advantage of tricking the iPAD into thinking it's on WiFi and hence you can use FaceTime)
Re: Question not answered in the review...
I'd pay the £79 for the better screen, yes.
4g scam
Kudos for mentioning the 4G issue in the opening statement.
Personally I think that Apple's use of the 4G moniker is likely to backfire. Apple are aware that the 4G unit will ONLY work on Verizon in the USA and a few networks in Canada (even then, I believe that you have to use one of their SIMs, ie not via roaming). It will not work on any of the existing (or proposed) 4G networks in Europe or the rest of the world. Never-the-less they use 4G as a must have sales feature whilst obscuring the truth.
When I last looked, the only UK telco with a degree of probity was Vodafone, they don't use the 4G moniker on their iPad page. I guess they decided that the margins weren't sufficient to handle the volume of callers complaining that they can't connect to any 4G networks. Like apple, the others say "4G LTE coverage is not available in all areas and varies by carrier"- FFS- why not just list the ones it will work on, ie., not yours
Any other firm would get a right royal kicking by the press if they did the same thing. Perhaps that is why NO other maker is marketing 4G devices in the UK.
Mind you it looks as though the Australian Competition and Consumer Commission are going to fine Apple for misleading customers. Time for Trading Standards to step up to the plate..
Upscaling 1080p?
Wasn't quite expecting to be able to say this phrase as early as 2012...and by a tablet of all things.
Progress FTW!
Re: flash in the pan?
I turned off Flash on my old Windows tablet, to see if I could cope without for a month. I could, so bought an iPad 1. I do still miss Flash. But not often. Probably less than twice a month do I have to email a site to myself, to remind me to check it on the desktop. I'm willing to put up with that, though I'd prefer Apple to allow Flash, but I know they won't.
I guess it entirely depends on what sites you frequent. Perhaps a test, by installing FlashBlock, and seeing how many times you have to click on those little icons?
Someone with an Android tablet can hopefully tell us how well Flash works on ICS. I've read suggestions that it's a bit flakey on Android, but I've no real info.
The lack of a proper file system is the most annoying weakness of iOS for me. And the £160 for 48GB of extra storage - Apple flash chips must be hewn from solid gold... By the purest maidens... Riding unicorns...