Network streaming has fast become an integral component of the modern AVR. So naturally, the SC-LX85's H.M.G (Home Media Gallery) can stream MP3, WMA, WAV, AAC, FLAC and Ogg from PC or LAN; it also displays album art when available. However, compatibility isn't as comprehensive from USB. FLAC, Ogg and AAC files all fail to play from a stick.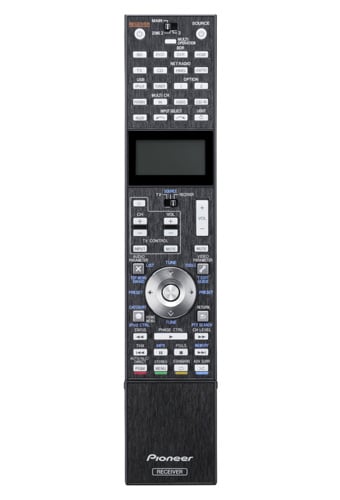 No skimping on remote functionality


There are no caveats about the receiver's audio performance though. The LC-LX85 is ripped like a Spartan. Beneath the lid you'll find nine channels of audiophile grade ICEpower Energy HD digital amplification, each rated at 190W (into 6Ω).
Thankfully, pointing all this power in the right direction isn't too difficult, due to Pioneer's MCACC room calibration tool. This correctly placed all the speakers in my listening room in terms of size and distance, and exhibited no phase errors. You can even view the results on Pioneer's free iControlAV2 app for iOS and Android devices.
All the requisite sound decoding formats are on hand, plus height and width indulgences for DTS Neo X and Dolby Pro-Logic IIz. Recognizing that few can accommodate this beast in full nine channel mode, you can also elect to run it multi-room. A variety of channel assignment patterns are available, including 5.1 in one location with two sets of stereo feeds going elsewhere.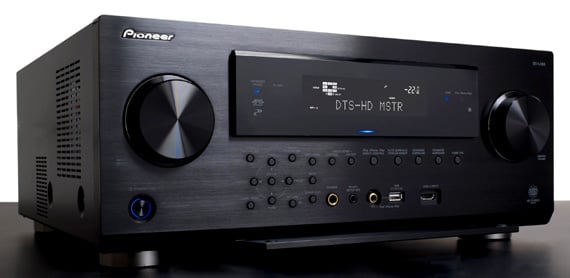 Tired of two-channels? Perhaps its time for a multichannel makeover
As a movie machine, the SC-LX85 delivers in spades. To ensure both sweetness and visceral cinematics, the AVR has been tuned by engineers from AIR Studios and certified Ultra 2 Plus by THX. Huge dynamics crack with whip-like precision, while action effects are panned with ease. The receiver delivers scale without distortion.
The SC-LX85 is not just about box-office thunder; it also sounds wonderful with multi-channel music. The skittish percussion and rhythmic chanting which opens Symphonic Suite Akira (Victor Entertainment, Japanese import), a 96kHz/24-bit 4.1 DVD-Audio recording of the iconic anime score, is made all the more extraordinary by the surgical precision of the SC-LX83's delivery.
Verdict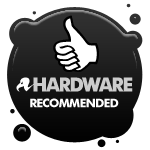 Beautifully engineered and lavishly equipped, Pioneer's SC-LX85 is a lust-worthy new member of the AV elite. I suspect niceties such as AirPlay and network streaming will have long time enthusiasts pondering an upgrade, while it's audio performance might even tempt two-channel audiophiles. I'd rate the likelihood of a better sounding AV receiver being released this year as slim to none. ®
More AV Gear Reviews

Yamaha
RX-V471
AV receiver
Ten...
boomboxes
Marantz
NR1602
AV receiver
Ten...
mini hi-fi
systems
Onkyo
TX-NR609
AV receiver

Pioneer SC-LX85 9.2 AV receiver with AirPlay
Lavishly appointed 9.2 channel AV receiver with Apple AirPlay.
COMMENTS
Looks great but......
It does look like a very impressive bit of kit, although I am far from an expert in the field. On the other hand, for two grand I'd expect it to make the popcorn and suck me off during the trailers too......
Marvellous. Yet another in-depth, deeply technical review of affordable audio equipment from El Reg - huzzah ! Many so-called 'reviews' on other online sites sound, to me, just like a regurgitation of the 'Specification' panel on the box - with the odd 'I think' or 'I did' added and a dash of words like 'sweetness', 'visceral' or 'audiophile' thrown in for good measure. Not this baby.
I for one welcome our £ 9,000 / metre 99.999999999% oxygen-free overlords.
Re: I've got the '75
"The speed of delivery over my old Yamaha amp is what really sets it apart though."
Is that:
a) time from placing order to time big box is deposited on your doormat
b) time it takes to propagate the digital signal to the processors (light speed - a relatively invariant speed)
c) time it takes the analogue signals to get to the speakers (again, light speed)
d) time it takes the audio waves to get to your lug-holes (speed of sound @ ~1 bar of air pressure)
e) or does it run through a CD at x2 (or more) speed
Re: ICEpower
"audiophile grade ICEpower Energy HD digital amplification"
means Class-D amplification developed by Bang and Olufsen. Audiophiles being what they are, I'm sure they can debate what 'Audiophile' means. Some audiophiles are sniffy about Class-D because the massaging of the feedback loop doesn't strike them as 'pure'.
Class-D amps are usually chosen for their power efficiency and thus low heat (sensible, given there are nine of them in this box). However, they do have the potential to sound very good.
The 'D' in Class-D does not stand in for 'Digital'. However, in this case we can assume that this receiver has to circuitry to create a pulse wave modulated signal directly from the digital audio input (like SPDIF or HDMI).
You can look at wikipedia's 'Class-D' page for diagrams etc.
Search google for "tripath amp" for a £20 - £30 amplifier that has had enthusiastic reviews and compared to Class A amps ten times the price. Ideal for your computer desk : D
Re: Re: Gordon 10 @JetSetJim
Oh, sorry, the cable connecting my stopwatch wasn't seated correctly leading to a slight measurement drift that gave that result.
Perhaps that bullet point should also have been filled with a treatise on cable thickness, charge magnitude, cable composition and an examination of various other things like skin effects. Might not have been as concise, methinks.
This website (http://www.teresonic.com/cables-15.html) quotes crap co-ax at 66%c and their specialist speaker cable at 92%c - assuming the cable run is around 2m to each speaker, is the end user *really* going to notice the 0.0000000017 second difference in signal propagation time to the speaker between these cables?
(BTW - electrical current itself doesn't travel very fast at all, its the field that whizzes around at high speed)