Pioneer SC-LX85 9.2 AV receiver with AirPlay
An amp for all seasons
Review The Pioneer SC-LX85 is AV receiver royalty. It lords it over the rest of the brand's home cinema range, resplendent in the latest audio visual finery. Priced at £2K, this is red carpet home cinema.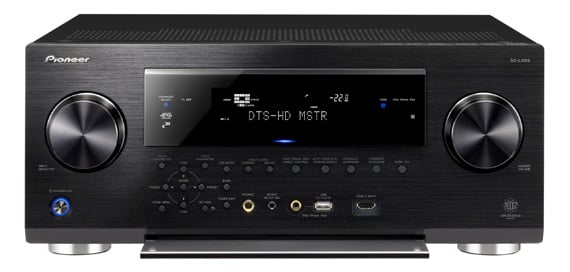 AV aristocracy: Pioneer's SC-LX85
There's little doubt that the SC-LX85 is exquisitely built. It sports a convoluted, rigid chassis with a glossy fascia offset by subtle metal trim. You might need some help lifting it from its box, as it tips the scales at 17.9kg.
Connectivity is extensive. With seven HDMI inputs, all 3D ready, you're unlikely to run out of places to plug things anytime soon. There are also two HDMI outputs, to feed both flatscreen and projector. New on this season's model is HDMI Standby Through, which routes connected sources to a TV without the need to power up, and AirPlay, Apple's pushmi-pullyu wireless audio system for iTunes and iOS.
The SC-LX85 is also a DLNA renderer, so Android owners can enjoy much the same functionality with the appropriate app. Not that the SC-LX85's network niceties end with AirPlay and DLNA. Pioneer's proprietary Air Jam system is built-in that has its own iOS app. Using an optional adapter, up to four Bluetooth devices can be paired to the receiver.
Each Bluetooth user can then cue songs to create a collective playlist, a feature certain to go down a storm at your next Come Dine With Me soiree. 
While the SC-LX85 doesn't have integrated Wi-Fi, Pioneer has tried to redress the situation by bundling an adaptor in the box. Unfortunately, I found this an awkward, uncooperative gizmo, and soon consigned it back to box.
COMMENTS
Looks great but......
It does look like a very impressive bit of kit, although I am far from an expert in the field. On the other hand, for two grand I'd expect it to make the popcorn and suck me off during the trailers too......
Marvellous. Yet another in-depth, deeply technical review of affordable audio equipment from El Reg - huzzah ! Many so-called 'reviews' on other online sites sound, to me, just like a regurgitation of the 'Specification' panel on the box - with the odd 'I think' or 'I did' added and a dash of words like 'sweetness', 'visceral' or 'audiophile' thrown in for good measure. Not this baby.
I for one welcome our £ 9,000 / metre 99.999999999% oxygen-free overlords.
Re: I've got the '75
"The speed of delivery over my old Yamaha amp is what really sets it apart though."
Is that:
a) time from placing order to time big box is deposited on your doormat
b) time it takes to propagate the digital signal to the processors (light speed - a relatively invariant speed)
c) time it takes the analogue signals to get to the speakers (again, light speed)
d) time it takes the audio waves to get to your lug-holes (speed of sound @ ~1 bar of air pressure)
e) or does it run through a CD at x2 (or more) speed
Re: ICEpower
"audiophile grade ICEpower Energy HD digital amplification"
means Class-D amplification developed by Bang and Olufsen. Audiophiles being what they are, I'm sure they can debate what 'Audiophile' means. Some audiophiles are sniffy about Class-D because the massaging of the feedback loop doesn't strike them as 'pure'.
Class-D amps are usually chosen for their power efficiency and thus low heat (sensible, given there are nine of them in this box). However, they do have the potential to sound very good.
The 'D' in Class-D does not stand in for 'Digital'. However, in this case we can assume that this receiver has to circuitry to create a pulse wave modulated signal directly from the digital audio input (like SPDIF or HDMI).
You can look at wikipedia's 'Class-D' page for diagrams etc.
Search google for "tripath amp" for a £20 - £30 amplifier that has had enthusiastic reviews and compared to Class A amps ten times the price. Ideal for your computer desk : D
Re: Re: Gordon 10 @JetSetJim
Oh, sorry, the cable connecting my stopwatch wasn't seated correctly leading to a slight measurement drift that gave that result.
Perhaps that bullet point should also have been filled with a treatise on cable thickness, charge magnitude, cable composition and an examination of various other things like skin effects. Might not have been as concise, methinks.
This website (http://www.teresonic.com/cables-15.html) quotes crap co-ax at 66%c and their specialist speaker cable at 92%c - assuming the cable run is around 2m to each speaker, is the end user *really* going to notice the 0.0000000017 second difference in signal propagation time to the speaker between these cables?
(BTW - electrical current itself doesn't travel very fast at all, its the field that whizzes around at high speed)