Intel next-gen netbook chip to sport Ivy Bridge graphics
What, with a 1024 x 600 screen and Windows Starter?
Hardware sites are abuzz with news that Intel is preparing a 22nm Atom chip with a state-of-the-art integrated graphics core on board.
The CPU is codenamed Valley View and it'll be part of a platform called Balboa Pier, slides that have leaked out of kit maker Advantech reveal.
Balboa Pier will is the follow-up to netbook platform Cedar Trail which finally arrived late last year.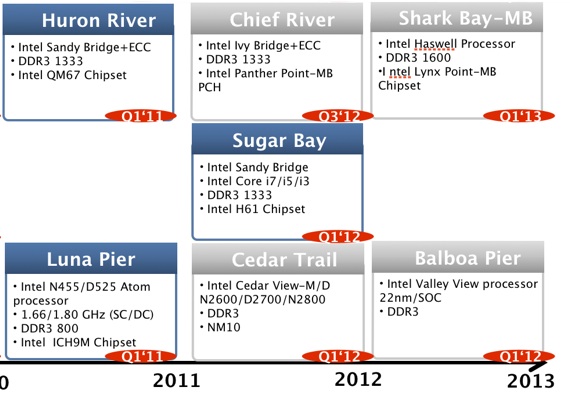 Separately, a fellow named Jesse Barnes, said to be in Intel employee, has been telling open source GUI developers that "Valley View is a Cedar View-like chip but with an Ivy Bridge graphics core", a forum poster at Phoronix spotted.
A netbook with a decent graphics capability at last? The notion is tickling the fancies of hardware geeks across the net.
Such a shame then that, being a netbook chip, it'll be used to drive a 1024 x 600 screen running Windows 8 Starter Edition. And it's likely to debut at a time, late 2012, when the netbook market will have slumped as punters opt instead for tablets.
Traditionally, Intel's netbook chips have sat well back, from a performance and capability perspective, from its notebook processors. If indeed Valley View has an Ivy Bridge graphics core, it seems Intel is bringing Atom more up to date, presumably in a bid to revive the netbook market by making them a little less like last year's laptops. ®
Sponsored: Application managers: What's keeping you up at night?