Intel next-gen netbook chip to sport Ivy Bridge graphics
What, with a 1024 x 600 screen and Windows Starter?
Hardware sites are abuzz with news that Intel is preparing a 22nm Atom chip with a state-of-the-art integrated graphics core on board.
The CPU is codenamed Valley View and it'll be part of a platform called Balboa Pier, slides that have leaked out of kit maker Advantech reveal.
Balboa Pier will is the follow-up to netbook platform Cedar Trail which finally arrived late last year.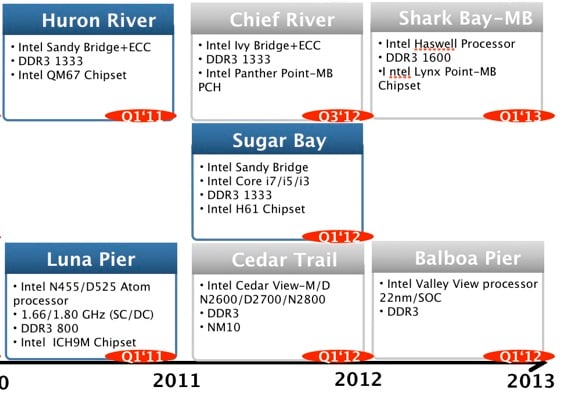 Separately, a fellow named Jesse Barnes, said to be in Intel employee, has been telling open source GUI developers that "Valley View is a Cedar View-like chip but with an Ivy Bridge graphics core", a forum poster at Phoronix spotted.
A netbook with a decent graphics capability at last? The notion is tickling the fancies of hardware geeks across the net.
Such a shame then that, being a netbook chip, it'll be used to drive a 1024 x 600 screen running Windows 8 Starter Edition. And it's likely to debut at a time, late 2012, when the netbook market will have slumped as punters opt instead for tablets.
Traditionally, Intel's netbook chips have sat well back, from a performance and capability perspective, from its notebook processors. If indeed Valley View has an Ivy Bridge graphics core, it seems Intel is bringing Atom more up to date, presumably in a bid to revive the netbook market by making them a little less like last year's laptops. ®
COMMENTS
Re: Spec sounds unlikely
When I got a brand new Acer Aspire one D255E netbook the other week I decided to replace the copy of Windows 7 Starter Edition that came on it with Windows 8 Consumer Preview to try it out. The Windows 8 operating system seemed to run on the netbook just fine at first, at least until I tried to run a Metro app. When I did, I promptly got the message "This app can't open. The screen resolution is too low for this app to run," displayed on my screen.
As you have probably already guessed, the Acer Aspire one netbook that I got came with a 1024x600 native resolution screen, so none of the Metro apps would open due to that 1024x768 minimum resolution requirement that you mentioned. What blows my mind however is that Microsoft would choose to have 1024x768 as their minimum screen resolution in the first place when there are literally *millions* of netbooks out there that have 1024x600 screens. I mean really, are those extra 168-pixels in the vertical dimension so important that it is worth alienating literally millions of netbook PC's that could otherwise run Windows 8 just fine for?
With all of the mass media scare-artists out there wildly proclaiming that "the PC is dying," you would think that Microsoft would want Windows 8 to be able to run on as much hardware as possible, including the Acer netbook that I bought two weeks ago. Or does Microsoft expect that all netbooks should just be stuck with Windows 7 Starter edition forever? I mean sure netbooks are supposedly "dying" as well, but according to figures from the International Data Corporation, a "global provider of market intelligence, advisory services, and events for the information technology, telecommunications and consumer technology markets," in the United States alone over *4-million* netbooks were sold in 2011, so yes netbook sales are declining from their 2009 sales levels, but there are still a heck of a lot of them being sold-- more so then I would think that Microsoft would be willing to just abandon like this.
For gosh sakes Microsoft-- either make the minimum resolution for Metro apps 1024x600, or at the very least allow those Metro apps to run on a 1024x600 screen with a vertical scrollbar so that I can scroll down to see the unseen 168 pixels at the bottom of the screen. Don't make the Metro apps not work at all, or force me to do a registry hack to enable blurry and distorted "display down scaling" just to see them! Having no Metro apps in Windows 8 just makes Windows 8 into "Windows 7 Pointlessly Annoying Edition!"
Re: Spec sounds unlikely
@Hoagiebot. The reason is developers don't want the aggravation of developing Metro style apps to cope with the low resolution of these first generation netbooks with 1024x600 displays. In the larger scheme of things these netwooks account for less than 3% of all active PC systems and the display resolution will be as rare as the dodo in retail by the end of the year. Yes, losing 20% of vertical resolution from the 768 at readable text size actually makes a big difference to UI design and remember 1024x768 or better has been commonplace for 20 years and is largely superceded for new laptop, desktops, and all but the most budget upcoming Win8 tablets,
Re: What, with a 1024 x 600 screen and Windows Starter?
jumping to conclusions, eh?
For one thing, its up to OEM's which of their netbooks they put this chip in.
There is absolutely no reason to just assume they'd put it into their smallest, lowest end netbooks.
There's been plenty of 'better' netbooks with 13" 1366x768 resolution screens. I myself own one, and it actually ran several games including Wold of Warcraft fairly well.
As for Windows Starter edition, only noobs will not replace that. Someone who goes out to find a notebook with this chip will probably wipe the drive on the day they get it.
Because specs never change
$500 iPads now come with a 2048x1536 resolution screen. Somehow, I think things have advanced to the point that a $250 netbook can have a small 1366x768 touchscreen that flips around to lie flat, as convertible-style tablet PCs have done for nearly a decade.
A cheap semi-tablet with a real keyboard and usable if low-end performance could do quite well.
Decent netbook graphics
It's called the AMD C-60. My acer 11.6" netbook has a 1366 x 768 screen, and is used to stream video through its HDMI interface to our 50" plasma TV.