Google patents mobile ads that sense noise, temp, light
Hey, you look cold - there's a coat shop over there
Google wants to deliver adverts based on the environment around people, as well as their behavioural profile, and has filed for a patent on the concept.
The premise of US patent 8,138,930 is that a phone, or other device, can detect a lot more than the current location of the user, it often knows the local temperature as well as the ambient sound and light levels, all of which the Chocolate Factory wants to use in order to better target advertisements.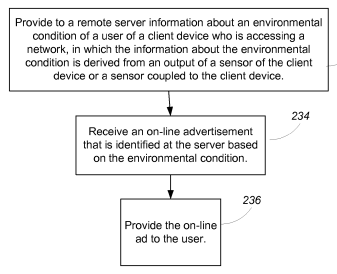 The ideas outlined in the patent are pretty obvious - selling coats to people who are cold, advertising skiing holidays to those who are hot, or picking up the background noise during a call to establish one is attending a sports event - but the blogosphere is up in arms about the potential invasion of privacy despite the fact that Google is promising to let people opt out, and that it's only a patent, or that this could easily be a step too far for the advertisers who fund the chocolate factory.
If one is using an Android phone then Google probably already knows where one is, and who one is, and has analysed one's communications and browsing habits. Letting the Chocolate factory know where one sets the thermostat seems like a tiny thing, but (far more importantly) it doesn't seem like something advertisers would pay a premium for.
Advertisers like to target their message, to a certain extent. Last year we spoke to mobile-advertising experts Blyk, who told us that the target's current location was well down on the list of things the advertisers would pay for - top comes home address (as it provides information about income and status), followed by sex and age, with everything else being firmly in the nice-to-have category.
One can only imagine how far down that list "air composition" comes (the patent assumes such analysis will come to mobile devices), or how little advertisers will pay to only target those hanging around in loud places.
Sound monitoring is being used for more-interesting things than targeting adverts: ABC and FOX have iPad apps which use the microphone to synchronise interactive content with broadcast TV shows even if the show is being time-shifted.
Google, however, is in the advertising business and busy applying some of the best minds of a generation to the problem of how to make us click on more ads. ®
Sponsored: Minds Mastering Machines - Call for papers now open