Twisted Metal
Crash and burn
Cartillery
Then there's the huge array of weaponry available throughout, ranging from the standard to the downright strange. Scattered throughout arenas are a variety of missiles and bombs as well as shotguns, remote bomb buggies and even napalm.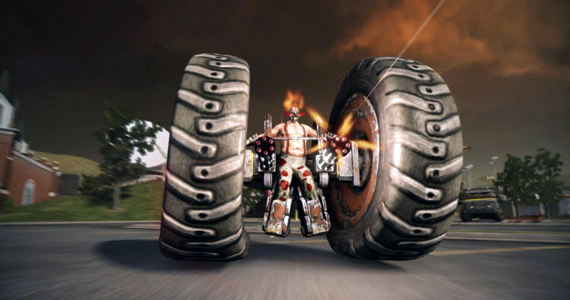 Clown in a round
On top of this, cars come equipped with standard armaments – think uzis and the like – and a special attack unique to each. Expect to see ice cream vans transform into bipedal mechs and rapid-fire assault cannons unload at the push of a button.
Taken on-line this surplus of arms translates into breathless insanity as missiles and bullets are incessantly exchanged. In fact, so fast is Twisted Metal's action that it's almost too intense.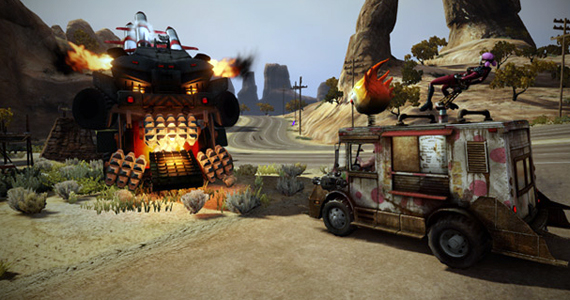 Holy truck
With barely a fraction of a second available in order to select and prep the right weapon, you're constantly left frustrated as you either miss your window of opportunity while clicking buttons, or else find yourself blown to bits by an unseen assailant in the meantime.
Even so, what could never be levelled at Twisted Metal's on-line content is that it's ever anything less than entertaining. Once you adapt to the Quake III Arena pace, the potential for high-octane thrills is just as present as in previous games in the series, and the resulting carnage often hilarious. With just those four modes available, however, there aren't too many new experiences to behold after a few hours of play.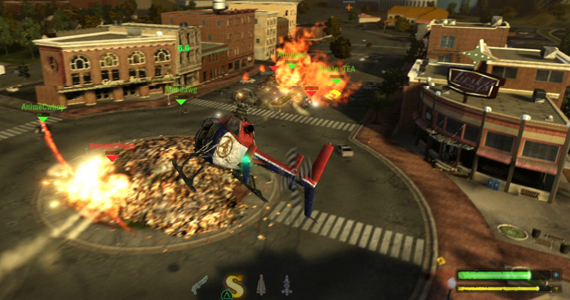 Chopperholic
Verdict
With David Jaffe freely discussing the game's transformation from an on-line-only PSN title, to a full-price shelf release in mid-development, the question of whether there's enough content here is surely one for debate. Yes, on-line play is most assuredly amusing, but the unnecessary bloating caused by that grafted-on solo experience ultimately detracts from what could have been a killer multiplayer PSN release. ®
More Games Reviews

Mass Effect
3
Syndicate
The Darkness 2
Kingdoms of Amalur:
Reckoning
Final Fantasy
XIII-2
Sponsored: Minds Mastering Machines - Call for papers now open

Twisted Metal
Prepare for a game of bumper-cars with a twist as Twisted Metal returns. Available on PS3 only.