The Register obtains covert snaps of Google's new London offices
Lapdancing booths, Teletubbies-style roof garden and all
Bordello or boardroom?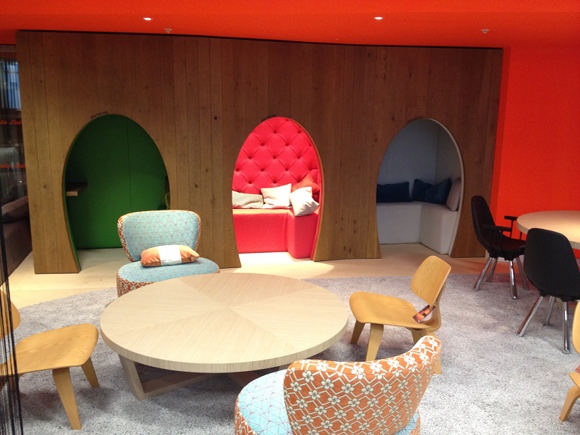 Granny's dining-room chairs, lap-dancing booths and knees-to-your-chin mini-tables: Google has it ALL...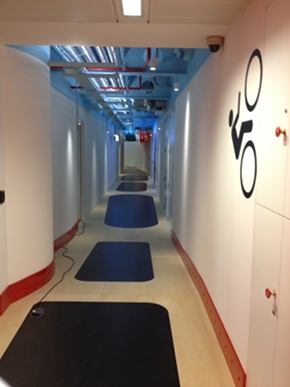 Oompa Loompa cyclists are invited to defy gravity...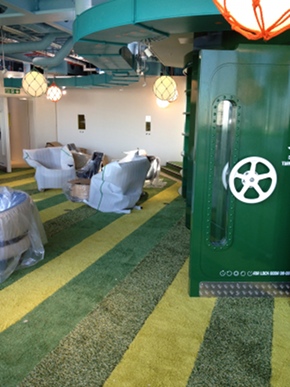 The state-of-the-art doors promote staff retention ...
The lucky janitors who change these lightbulbs
find themselves fondling Larry's ballsack ...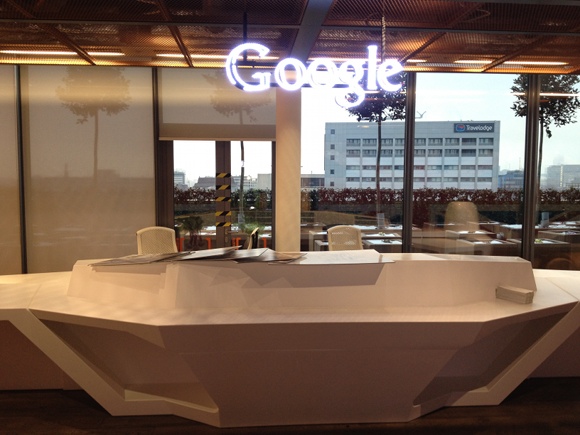 The reception desk, borrowed from an old Star Trek set. Overlooked by the Covent Garden Travelodge.
These offices, still being prepared for Oompa-Loompa occupation as the snaps were taken, are in the excitingly mad-looking and multicoloured (or horrifically ugly, according to taste) Central St Giles building, into which Google began moving some of its London people last year.
"It has the advantage of being even closer to some of our major customers and partners," said Matt Brittin, Google Blighty MD, announcing plans to move some of his people to Central St Giles from the existing Chocolate Factory tentacle in Victoria.
The green and orange edifice - brainchild of famed architect Renzo Piano - is handily located for London's ad-land, the better for Googlers to steal bread from the mouths of those who create the content they copy and place ads beside. It would seem likely that the Central St Giles Googleplex will mainly house sales types rather than engineers and coders.
Speculation is still rife as to where the rest of the London Googlers will go when their Victoria lease runs out in 2016. It's widely expected that they'll shift to the new complex being built behind the new western ticket hall at Kings Cross Station, but no deal has yet been formally inked. ®
Sponsored: Minds Mastering Machines - Call for papers now open