Dot Hill dismounts NetApp, searches for new hard partners
Disk box biz suffers Q4 droop after contract exit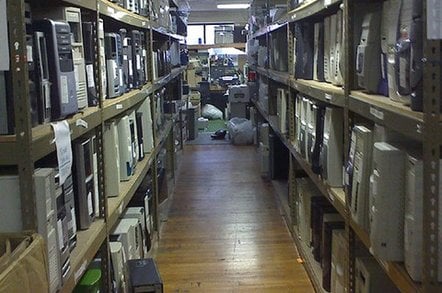 OEMing drive arrays to mainstream vendors is a risky business because big contracts can go away just like that, leaving you with a damaged revenue stream and losses. That's what's happened to Dot Hill, which has exited a NetApp supply contract.
Revenues for the last 2011 quarter (Q4) were $47m, 28 per cent down on the year-ago quarter's $65.4m. Dot Hill made a net loss of $6.6m, which compares to a miniscule $0.3m profit in the last 2010 quarter.
The third 2011 quarter (Q3) saw Dot Hill revenues of $48.1m and a net loss of $12.2m. So, overall, Q4 was an improvement on Q3.
There were other signs of progress. Dot Hill said revenues "increased 6 per cent from 2010 excluding the exited NetApp business". More impressively, sales to second tier OEMs increased 40 per cent over the year. They have some way to go.
The full year 2011 results saw revenues of $197.5m, $55m down on 2010, with a net loss of $22m, worse than 2010's loss of $13.5m.
Dana Kammersgard, Dot Hill's president and CEO, put a brave face on it: "Our universe has changed dramatically, and we believe that we have already benefited from the many mergers and acquisitions in the data storage industry. We have worked aggressively, as we said we would, to fill the voids left by our competitors, such as winning new OEM customers like Autodesk and Concurrent Computer and new distributors such as Harwood and Pac Data. We have additional wins not yet announced and expect to add others throughout 2012."
No one would enter this kind of business now. Supplying drive enclosures to mainstream OEMs is a mug's game. There are no startups here; they're all in the solid-state storage and cloud storage areas. But Dot Hill is in it and has nowhere else to go.
It is more than a contract manufacturer but not a drive array seller to end-users. Catering to large customers – but too few of them – has made Dot Hill vulnerable to their changes. It basically doesn't really want to be selling the same drive array enclosures as its competitors, even if its value-add comes from software.
Dot Hill has been building up its virtualisation technology portfolio but this hasn't delivered short-term gains. It's also expanding its reach among the tier-two OEMs and, no doubt, is busy developing big data enclosures, as Xyratex has done, as well as thinking about as all-flash ones. That's a problem as lots of clever little startups are doing that too. Where is Dot Hill's edge in that game?
Basically Dot Hill is going to carry on doing what it has been doing with drive arrays and enclosures, and try to make money from it. It is forecasting full year 2012 revenues of $205m to $225m. Its gross margin in 2011 was 21.1 per cent, compared to 17 per cent in 2010. Improving that is the key to profits. ®
Sponsored: Minds Mastering Machines - Call for papers now open