Avere attacks filer VDI boot slowdown
Boot storm delay goes away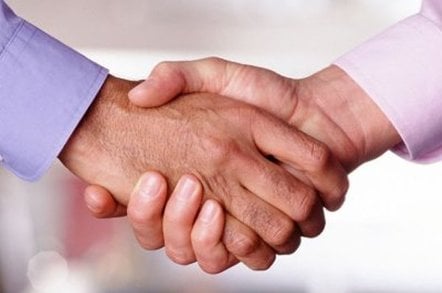 NAS accelerator supplier Avere can make NetApp VDI boot storm delays go away, and it has the numbers to prove it.
By placing a multi-tiered, solid state and hard drive caching Avere FXT filer accelerator in front of a NetApp filer, VDI boot storm files are transferred to the FXT and served up to booting devices faster and at a more consistent speed than from the back end filer.
Avere said testing of up to 145 Virtual Machines (VMs) scattered across multiple ESXi servers each using a single datastore on an entry-level Avere FXT-2550 maintained consistently fast sub 90-second boot times."
An Avere spokesperson said: "Using the Avere Dashboard Analytics, we were able to determine that booting Windows 7 64-bit, with 16GB VMDK and 2GB of memory, requires an approximate 340MB of hot data."
If you put that hot data in a solid state cache then it will be served up far faster than from spinning disk.
Avere found that a NetApp FAS2050 array would start to exhibit VM boot times 113 per cent longer with as few as 16 virtual machines (VMs) booting simultaneously. An Avere FXT2550 front-ending the FAS250 was able to boot up to 115 VMs scattered across multiple ESXi servers with a fairly consistent boot time.
The chart below shows a before and after comparison.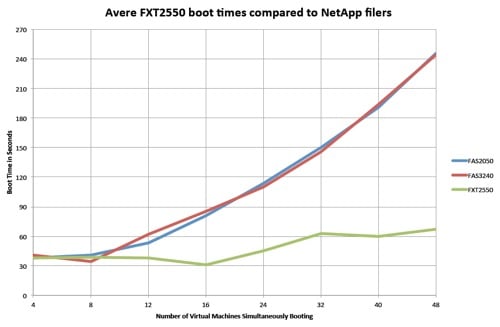 Boot storm relief from Avere FXT2550 accelerating NetApp arrays
The FAS2050 configuration was a single-head filer with 12 x 500GB SATA 7200rpm disks. The FAS3240 was also single-headed with 24 x 2TB SATA 7200rpm disks.
An Avere spokesperson said: "Neither of these filers were populated with FlashCache cards.
"The FAS2000 series does not have hardware that is compatible with FlashCache. So anyone out there running a FAS2000 series has no option to add a FlashCache card.[The] only option is to upgrade the filer head and buy a FlashCache card. ... we can optimise a FAS2000 series filer that would otherwise have to be forklift-upgraded."
He added this little PR nugget: "A school district in Massachusetts gained instant relief from the storage performance issues plaguing their NetApp FAS2000 due to logon/logoff storms." ®
Sponsored: Minds Mastering Machines - Call for papers now open