Princess Leia faces her knockers
Next up, there's an even more exasperating mode, "Rancor Rampage", which sees players take control of a giant beast asked to complete tasks, such as throw people a certain distance, crush droids, or simply cause as much damage as possible. On paper that doesn't sound so bad, but in practice it was just as unresponsive and random as the other modes. Yawn.
Rancor Rampage and Galactic Dance-off modes
Those that enjoy games like Dance Central will no doubt lap up the "Galactic Dance-Off" mode, which as previously reported, sees Princess Leia boogie about in skimpy clothes. This was just a distraction, if I'm honest, but either way, I'm not a fan of these kinds of games. On the plus side, there are 15 popular modern tracks to choose from, each given a Star Wars twist. That was probably the highlight of the entire game for me.
Finally, there's a mode where you get to do what every Star Wars fan wants: fight to the death with Darth Vader. Gamers are given the chance to attack and generally beat the Sith out of the dark knight of the Dark Side. Not much cop if I'm honest, but I was playing an unfinished version. Maybe the completed code will be better.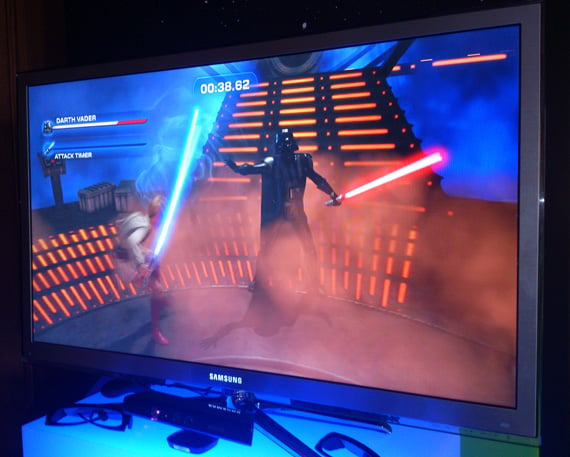 The chokes on you
It was a fun afternoon out of the office, but after arriving back with aching limbs and sweaty armpits, I did question if the game was worth the exhaustion.
I'm a huge fan of Kinect, but unfortunately there are far too many games that don't cut the mustard. This Star Wars effort seems to be another. I'm hoping that the final build will be rather more enjoyable than this pre-release version proved to be. It's set to hit shop shelves on 3 April.
If my hands-on experience was anything to go by, you'll have to Force me to play it again when it gets launched. And that's a real shame, because I've been looking forward to Kinect Star Wars for a long time, and so have many other fans of Kinect and of Star Wars.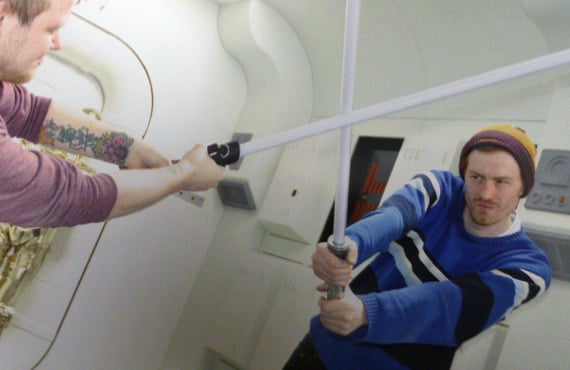 Nothing quite like the real thing
Guess I'll have to stick to waving imaginary lightsabres around in front of the mirror after all. ®
Hands on with Kinect Star Wars
COMMENTS
I think the reviewer's thoughts about the age range are probably right. I've played a few Kinect games at a friend's house and they amused me for a couple of minutes and then that was it. His two children, aged 9 and 5, both love the thing and can't get enough of even the simplest games. It's fer kids innit?
With my cynical old man hat on, I think the Princess Leia dancing scene is only there to give the dads something to take their minds off the pain of watching small children wave their arms and scream at a TV.
When I want to wave my arms and scream at a TV, I watch Question Time. It must be a generational thing.
Re: It didn't take a rocket scientist
@ ShelLuser. have you played the fighting bit of sport champions? with swords and shields? amazing, and the reason why a lightsabre game would work wonders on Move. All i could think of while playing, is how good a star wars game would be.
The controller is ideal for simulating a lightsabre. the ball on the end could even change colour depending on the colour of the blade. and the 1-2-1 movemtn means that wherever you swing the controller the blade goes. it even does depth well
My ideal game would basically be dark forces 2, possibly in 3rd person, so you can actually see yourself, but using the move controllers and better graphics. The controllers would even work for force powers. Press triangle, aim at the rebel scum and hoist them into the air by thier neck!
Damn George Lucas, and his need for cash, and damn micrsoft for buying titles. A lightsabre game would rock on Move but it will probably never happen.
Re: It didn't take a rocket scientist
to be fair, this is one game that would have thrived on Move as opposed to Kinect.
>"Air Hockey anyone?"
I was very disappointed when I recently had an opportunity to play Air Hockey in an arcade, to discover that there is now a vertical plexiglass safety screen across the pitch half-way, allowing only low shots along the table to pass underneath, and robbing me of my favourite technique, perfected in the games hall on the pier at Weston-Super-Mare when I was a kid in the '70s, of chipping up the puck off the table at speed and trying to hit my younger brother (or other opponent) in the face with it.
It's health and bloody safety gone mad, that's what it is!
"Galactic Dance-Off"
Where is the demonstration video of you doing the dance part of the game?
Seriously, you've robbed me of at least 2 minutes of hysterical laughter.