Hands on with Kinect Star Wars
Forced to exhaustion
First look I had a chance this week to play on a near-final build of the upcoming Kinect Star Wars to get an impression of the game ahead of its launch early next month.
The title has come a long way since its E3 2011 build - my last attempt to wield an invisible lightsabre. If you exclude any in-front-of-the-mirror embarrassments at home, that is.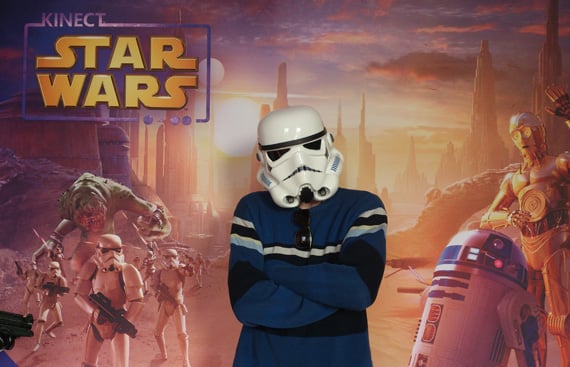 Unfortunately, the game drew more frustrations than excitements and as time went on, the potential I saw last year was soon forgotten. While there are five different modes to keep gamers occupied, the only audience likely to find huge amounts of enjoyment are those born after The Phantom Menace hit cinemas.
First off, there's the extremely linear campaign mode, "Jedi Destiny". Here your character is taken through a story set between the end of Episode I and Episode III, and you get to swing lightsabres, use the Force and jump around like a frog on amphetamines.
There were plenty of instances where the Kinect didn't register my moves and despite the silhouette of a human in the bottom left-hand corner of the screen telling me what I need to do, I was often baffled. Do I use telekinesis, jump, swing my weapon, or what?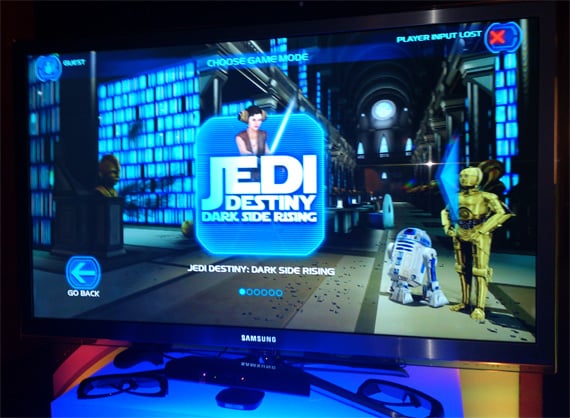 The menu system, hosted by the quirky droids of the Star Wars galaxy
While the lightsabre does match the movement of my arm without actually having one in hand, the constant waving soon became too much of a frustration to bear. Perhaps a port to PlayStation Move could solve that issue, but waving a glowing orb around is hardly my idea of acting like a Jedi.
Leaning forward to move was often unresponsive, and overall I just got bored - and extremely tired - very quickly. Gameplay was too repetitive and nothing really grabbed me as that entertaining. The linearity, an almost rail-like system, felt slightly Time Crisis-esque, although if I entered an arcade in the 1990s and had the choice to slot coins into a Kinect Star Wars machine, I'd soon go and spend my money elsewhere. Air Hockey anyone?
I decided it was time to try some of the other modes, ones that I hadn't yet seen, such as the much hyped Pod race feature.
Campaign and Podracing modes
Here, the fact you have to hold out your arms in front to steer the vehicles meant more punishment for my already aching limbs. Pulling back and releasing forward gives the Pod a power boost, but other than that, there isn't much to it. Stunning visuals in 3D does little to claw back dignity. Star Wars: Episode I Racer on the PC back in the day may not have had the same graphical prowess, but it was a far more riveting game.
COMMENTS
I think the reviewer's thoughts about the age range are probably right. I've played a few Kinect games at a friend's house and they amused me for a couple of minutes and then that was it. His two children, aged 9 and 5, both love the thing and can't get enough of even the simplest games. It's fer kids innit?
With my cynical old man hat on, I think the Princess Leia dancing scene is only there to give the dads something to take their minds off the pain of watching small children wave their arms and scream at a TV.
When I want to wave my arms and scream at a TV, I watch Question Time. It must be a generational thing.
Re: It didn't take a rocket scientist
@ ShelLuser. have you played the fighting bit of sport champions? with swords and shields? amazing, and the reason why a lightsabre game would work wonders on Move. All i could think of while playing, is how good a star wars game would be.
The controller is ideal for simulating a lightsabre. the ball on the end could even change colour depending on the colour of the blade. and the 1-2-1 movemtn means that wherever you swing the controller the blade goes. it even does depth well
My ideal game would basically be dark forces 2, possibly in 3rd person, so you can actually see yourself, but using the move controllers and better graphics. The controllers would even work for force powers. Press triangle, aim at the rebel scum and hoist them into the air by thier neck!
Damn George Lucas, and his need for cash, and damn micrsoft for buying titles. A lightsabre game would rock on Move but it will probably never happen.
Re: It didn't take a rocket scientist
to be fair, this is one game that would have thrived on Move as opposed to Kinect.
>"Air Hockey anyone?"
I was very disappointed when I recently had an opportunity to play Air Hockey in an arcade, to discover that there is now a vertical plexiglass safety screen across the pitch half-way, allowing only low shots along the table to pass underneath, and robbing me of my favourite technique, perfected in the games hall on the pier at Weston-Super-Mare when I was a kid in the '70s, of chipping up the puck off the table at speed and trying to hit my younger brother (or other opponent) in the face with it.
It's health and bloody safety gone mad, that's what it is!
"Galactic Dance-Off"
Where is the demonstration video of you doing the dance part of the game?
Seriously, you've robbed me of at least 2 minutes of hysterical laughter.