Films-on-USB kiosks come to airports
Movie downloaders please proceed to gate four
Travelling to the US this summer? Take your Android tablet or Windows laptop with out and you may be able to grab a movie or two on USB stick for the flight home.
The oddly named Digiboo this week began rolling out kiosks at US airports which allow travellers to buy or rent one or two films which are copied onto a USB Flash drive.
The kiosks are equipped with USB 3.0 connections for fast file transfer - it'll take a minute to copy one of them - but you'll have to bring your own drive. USB 2.0 drives will take longer to save the content.
Rentals cost $4 (£2.50), or you can buy movies for $15 (£9.50) a pop.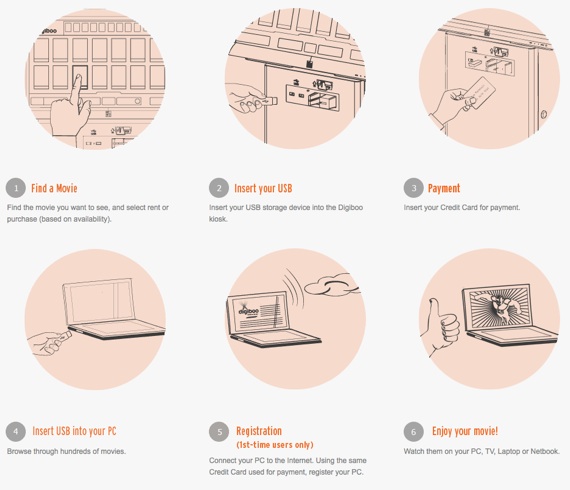 How Digiboo works
Source: Digiboo
The films are DRM'd, of course, hence the support for Android and Windows but not Mac or iOS. Windows is supported now; Android support will be in place by June, Digiboo said.
But there's a problem with DRM. Quite apart from the inherent rigid nature of the technology, Digiboo admitted users will have to contect their computers to the internet and register before they get to watch their films.
Fortunately, you can do this before you buy or rent, but it's an extra level of faff that is sure to stymie many an impulse buyer.
Digiboo's machines only contain a library of 1000 movies, all in standard definition. The selection is updated weekly, the company said.
Digiboo's first kiosks are now to be found in Minneapolis–St. Paul, Portland and Seattle-Tacoma international airports, but the firm said it plans to put 7000 in place by the end of 2014. ®
Sponsored: Minds Mastering Machines - Call for papers now open