Apple iPad 3 Sim-only contracts compared
Got the hardware, need a deal?
Many of you may have already purchased your new iPads directly from the Apple store, and as such will probably be looking for a Sim-only deal to make the most of your device on the move.
We've compiled a list of the deals out there for you to consider.
While Three again offers a commendable data package, with 10GB for £15, T-Mobile's 18-month contract for a tenner could be worth looking into as well.
Not only do you get unlimited data that won't succumb to additional charges, but a free dongle for mobile broadband thrown in to use with a laptop.
Have a butchers at the table below. It is worth pointing out that Three also offers various Sim-only deals that sit between the two shown below. Happy hunting, people. ®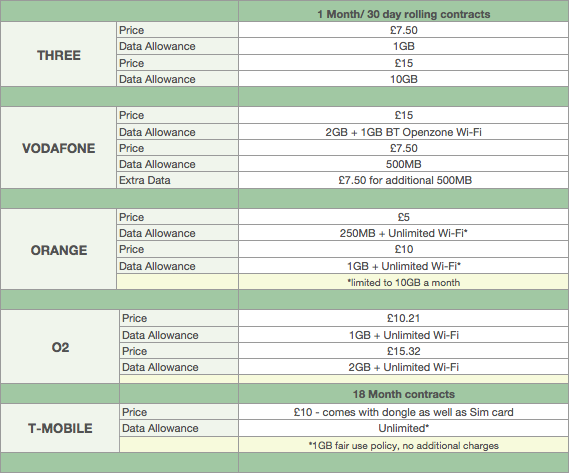 COMMENTS
Someone needs a dictionary...
"Unlimited Wi-fi" and "limited to 10GB/month" are contradictory. If you're putting a limit on something, surely it's false advertising to call it "unlimited"?
iFad?
As these clever clever gods (who us mere mortals we can only bow before their greatness) point out the new iPad is totally rubbish. Wow it's just as well we have these same guys posting on EVERY SINGLE iPad thread pointing out how bad it is so the folk reading here are warned off it....
Gee it must be so bad that they feel compelled to tell us on every single article. I'm sure their extensive knowledge of previous models / the current model and specifically it's LTE capabilities is up there with the best...
These Android tablets and Windows 7 / 8 tablets are eating it alive!!!
Re: Alternatives to the Big Five
giffgaff do not offer unlimited usage in tablet and dongles so no, in this case giffgaff isn't suitable,
not to mention at all usable at this present moment in time.
t-mobile
Why would you sign your life away for 18 months? Just buy yourself a prepay dongle, £29.99 gets you 90 days of "unllmited" access and a dongle. At the end of the 90 days just buy yourself a new dongle or have a look around for a better deal. Sell the dongles on ebay to recoup some of the money.
To anybody suggesting giffgaff, give me a break. I have a giffgaff sim in my phone and the data service is appalling.
I just buy the 3month/3Gb sims on Three from Amazon/Ebay. You get 3 months of service or 3Gb depending on which runs out first - average around £12 a sim. I use less than half of the allowance but it still works out a bargain at £4 a month (you need a sim cutter if you follow this route).