15in MacBook Air will go HEAD TO HEAD with MacBook Pro in April
Vendor spills beans at trade show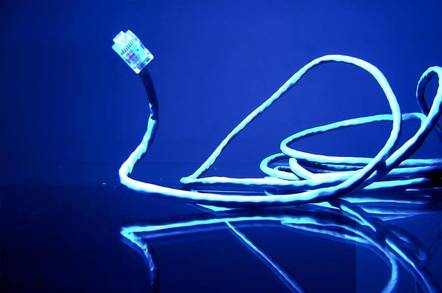 Apple has a 15 inch MacBook Air in the works and it's coming out in April, a Mac accessories manufacturer has told Electric Pig.
The unnamed accessories maker dropped the tip at CU Exposed, a trade fair for MacBook accessories on 13 March. Currently only available in the 11 inch and 13 inch form factors, the debut of 15 inch MacBook Air will put Apple's slender Air range more directly in competition with the MacBook Pro line.

Pros are cheaper and bulkier but pack greater processing power and more ports. Airs have no Ethernet ports, or optical CD/DVD drives, encouraging users to use Wi-Fi and store content in the cloud.
The 13 inch Air 128 GB (1.7GHz Intel i5) costs £1,099, compared to £999 for the 13 inch Pro, which packs a 500GB hard drive and 2.4GHz i5 Intel Core chip.
A 15 inch Air has been expected since the Air range launched with a 13.3 inch model in January 2008. An 11 inch Air was introduced at the end of 2010 and the discontinuation of the simple MacBook has left the £849, 1.08kg model as Apple's cheapest laptop.
Apple has cannibalised its own market share before: something it famously did by including the iPod functionality on the iPhone – which has seen iPod sales dive – dropping 15 per cent between 2010 and 2011, from 50.3 million to just 42.6 million.
Still, the Pro might hang on to a place at top end of the market – for desktop users who want 17 inch screens, some punchier chip power, and possibly the ability to insert a CD. Video editors and others requiring hefty storage capacity will be unlikely to switch to the Air range because the flash storage drives – the only type that will fit in the slender Air case – become painfully pricey at higher capacities.
To cater to users handling video and other big files, Apple will need to keep a beefy Pro – perhaps the 17 inch model with some hefty hard disk storage. The current 17 inch Pro comes with a 750GB hard disk drive included in the £2,099 price. Swapping that for a 512GB flash storage drive in the current model adds £880 to the price tag. Users requiring serious storage will most likely prefer to stick to the Pro. ®
Sponsored: Minds Mastering Machines - Call for papers now open