Startup slices solar panels using ion gun
Promises thin film panels at half the cost
After keeping a low profile for some years, a startup called Twin Creeks Technologies has gone public with an interesting approach to making solar panels: it uses an ion gun to slice ultra-thin leaves from a wafer.
Its approach is to fire hydrogen ions at a substrate, a technique the company says produces very thin wafers which are both cheaper to produce in volume (since they use less materials) and are flexible (by virtue of being thin).
The ion gun, which the company calls "Hyperion", performs a process tagged "proton induced exfoliation", in which high-energy hydrogen ions are embedded beneath the surface of the target (or "donor") wafer, essentially cutting thin films from the surface of the wafer.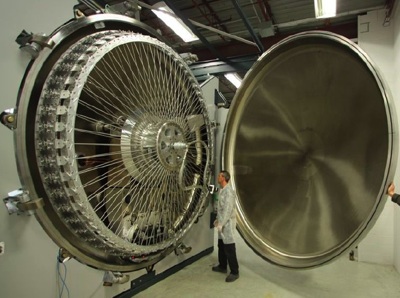 Hyperion's wafer drum. Source: Twin Creeks Technologies
In other words, Hyperion "slices" the fabricated wafer more thinly than current processing techniques, by firing the protons through the surface of the wafer to a precise depth, lifting off the thin slices from the surface. Twin Creeks Technologies claims to have taken ten solar-cell slices from the surface of a single original wafer.
Twin Creeks Technologies says it can produce cells with "good optical confinement" (ie, the cells are good at trapping light) at thicknesses of between 30 and 60 microns, which the company says is "one tenth as thick as conventional wafers".
The company says it can process more than 1.5 million wafers per year, equating to a systems which in deployment would produce more than 6 megawatts' worth of solar cells. The system is also suitable for other silicon and gallium arsenide wafer processes. ®
Sponsored: Minds Mastering Machines - Call for papers now open