4G hobonet stunt was riddled with flaws, doomed to ridicule
Surely we can do better than penniless Wi-Fi porters?
Is giving small amounts of money to homeless people useful?
Homeless charity Homeless Link told El Reg that giving homeless people small amounts of money is not the first or best way to reduce homelessness. Most homeless charities aim to get people off the streets as a priority and then look at accessing other services for them. Commenting on Homeless Hotspots, Homeless Link told us:
I would question whether this initiative would really benefit someone who found themselves on the streets. Individuals who sleep rough can have complex problems and the longer someone stays out, the worse these problems can become. Our members are focused on getting people off the streets and into accommodation.  We need long-term solutions that enable people to overcome their problems and get a home, a job and a better future.
The Big Issue is very specific about how selling magazines is helpful to the vendors of the magazine. And it's the act of selling that is seen as the most valuable part of the process. From their mission page:
The Big Issue offers some of the most excluded people in the country a unique opening to take some control of their lives and earn a legitimate income. Vendors make a personal choice to buy their magazines with their own money, taking charge of their finances and sales whilst developing the skills required to retail to the public.
Walking around in a T-shirt telling the world that you are a 4G hotspot, presenting your body to people with iPads and accepting donations doesn't really involve the same skill set and probably doesn't do much for self-esteem. It would also be more problematic for women, the more vulnerable vendors and those with mental-health problems.
In a response on its website, BBH New York's admen have claimed that at least its initiative has drawn attention to the problem of homelessness. Well, at least that's true.
Is the tech industry really full of callous twats?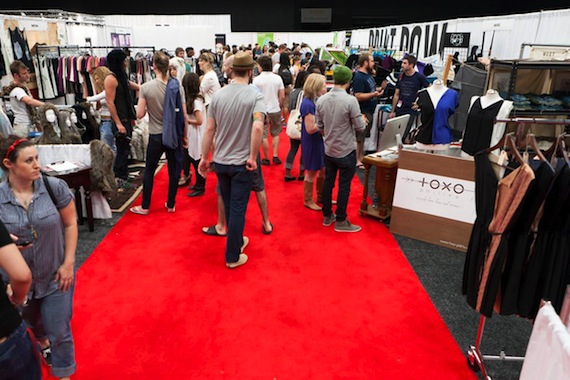 SXSW fashion show 2011. Credit: SXSW
Sure, sitting here criticising an ad agency isn't going to help homeless people either. I suppose what gets to me in particular about the Homeless Hotspots initiative is that it promotes itself as the tech industry stepping up to solve a social problem, but the solution reads like some horrible parody of Silicon Valley: with hipsters quite literally not taking their eyes off their gadget screens to look at the social problems in front of them.
And it doesn't do SXSW any favours either, although a spokesperson for the event said the hobonet stunt was not affiliated with the festival.
But are the roaming Wi-Fi porters the result of some of the world's best minds coming together to discuss great ideas, or a bunch of self-regarding twats with Wi-Fi-only gadgets wanting to upload videos of themselves with other gadgets so that other self-regarding twats can watch them. Answers via Twitter.
The tech industry is going to be about as popular as financial services if we can't see outside our own bubble. Maybe I'm being idealistic about technology, but given the brain power in the industry surely we could do better at tackling some of society's issues. ®
Sponsored: Learn how to transform your data into a strategic asset for your business by using the cloud to accelerate innovation with NetApp