Big biz nuts about iPad, says researcher
And that's before the new one was announced
Think tablets are just for folk at home? Think again. New research suggests big business is becoming increasingly keen on the iPad.
The data come from research company ChangeWave which talked to 1600-odd technology buyers in US firms. Around 22 per cent of them said they will be buying tablets during Q2 2012, and of those 84 per cent have picked the Apple product.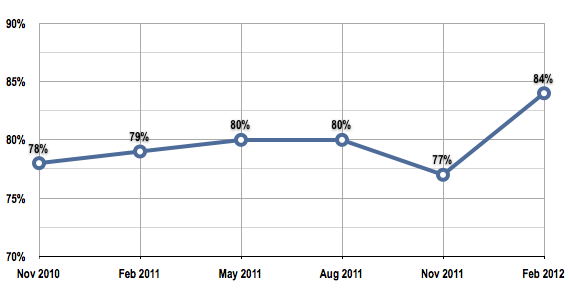 Data source: ChangeWave Research
ChangeWave was quick to note that this is the highest level of corporate iPad demand it has ever seen, but to be fair its data only go back to November 2010, and the previous peak, in May and August 2011, was 80 per cent.
Demand among corporate tablet buyers for iPads has never dipped below 77 per cent, the figure recorded in ChangeWave's last such survey, conducted in November 2011.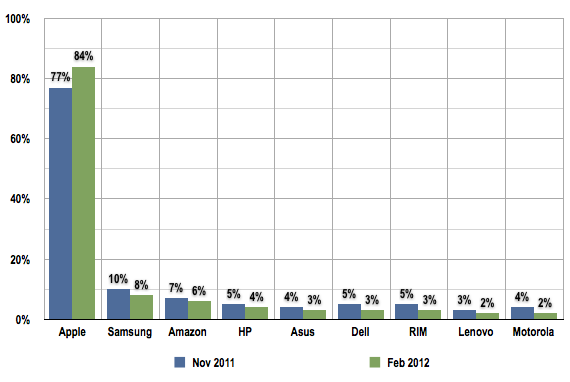 Data source: ChangeWave Research
The jump since then comes at a cost to other tablet makers, all of which saw demand for their products fall one or two percentage points.
Before you suggest that's the iPad 3 wow factor showing its face and that more reasoned counsels will prevail, ChangeWave carried out its survey in February, before the new tablet was announced, though - it has to be said - while the rumour mill was in full spin.
It's interesting to note the presence of HP among the responses, suggesting that these folk are not merely considering iPads and Android-based tablets but also those running Windows, such as HP's Slate series. ®
COMMENTS
Previous tablets were...
crap and so was the software.
All you have to do is look at some of Microsoft Tablet monstrosities. It's not about loving apple, it's about a tool that does the required job and gets supported by the company that makes them.
I'd be interested to know what percentage of the iPads were bought because of their gadgety glittery appeal to managers rather than for any clearly defined need. Senior management here (NHS) have spent thousands on them, bypassing all IT procurement best practice and common sense. They didn't even look at the competition - if I was Samsung or RIM I'd be livid. Asking why they need them doesn't do any good, either - it's like asking an arsy teenager why they NEEEEEED the latest £200 Nike's
Hurrah for graphs
Without the Y axis properly labelled.:-(
More despair than shock
For the amount of actual business use our iPads will be getting the Psion 3a would have been the optimal choice. Come to think of it, a black vynil floor tile with an Apple logo on it would have been even better - the numpties would still seem fashionable in front of their IT illiterate brand-rimming peers and it would be less disruptive to our IM&T infrastructure
To be fair
Many big companies have looked at Tablet PCs in the past and found that they weren't that useful. It's not something they've only just thought of using now they are trendy. I know because I worked on a trial for a large corporate.
What they found was that the business cases were fairly thin benefits weighted against a crap UI (Windows with pen) and high costs. iPads have a pretty good UI and are much cheaper than the old Windows Tablet PCs used to be. Benefits are still generally quite slim but you can see that the game is changing.