Big biz nuts about iPad, says researcher
And that's before the new one was announced
Think tablets are just for folk at home? Think again. New research suggests big business is becoming increasingly keen on the iPad.
The data come from research company ChangeWave which talked to 1600-odd technology buyers in US firms. Around 22 per cent of them said they will be buying tablets during Q2 2012, and of those 84 per cent have picked the Apple product.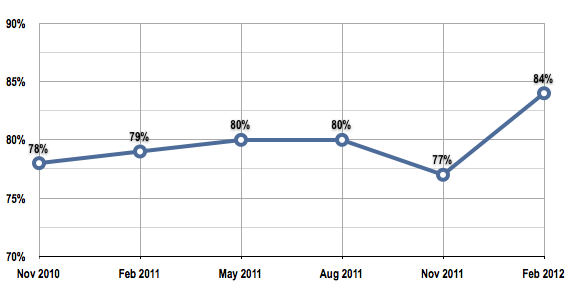 Data source: ChangeWave Research
ChangeWave was quick to note that this is the highest level of corporate iPad demand it has ever seen, but to be fair its data only go back to November 2010, and the previous peak, in May and August 2011, was 80 per cent.
Demand among corporate tablet buyers for iPads has never dipped below 77 per cent, the figure recorded in ChangeWave's last such survey, conducted in November 2011.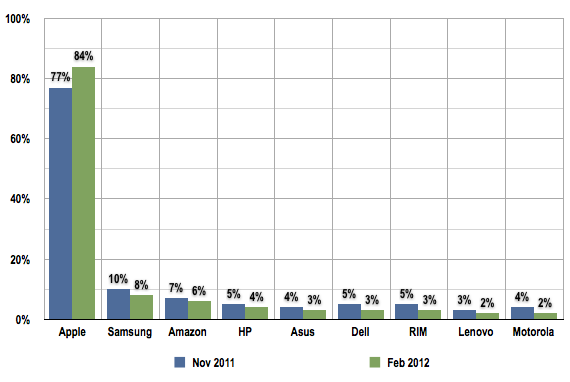 Data source: ChangeWave Research
The jump since then comes at a cost to other tablet makers, all of which saw demand for their products fall one or two percentage points.
Before you suggest that's the iPad 3 wow factor showing its face and that more reasoned counsels will prevail, ChangeWave carried out its survey in February, before the new tablet was announced, though - it has to be said - while the rumour mill was in full spin.
It's interesting to note the presence of HP among the responses, suggesting that these folk are not merely considering iPads and Android-based tablets but also those running Windows, such as HP's Slate series. ®
Sponsored: Minds Mastering Machines - Call for papers now open