iPad 3 benchmarked
1GHz CPU, 1GB Ram confirmed?
The iPad 3 does indeed contain 1GB of memory and sports a processor clocked at 1GHz, it has been claimed.
So says one Vietnamese lad who managed not only to get hold of the device but to install the Geekbench performance testing app on it.
And, according to Geekbench, the iPad3,3 - the new tablet's internal moniker - has a gig of Ram and gigahertz-clocked ARMv7 CPU.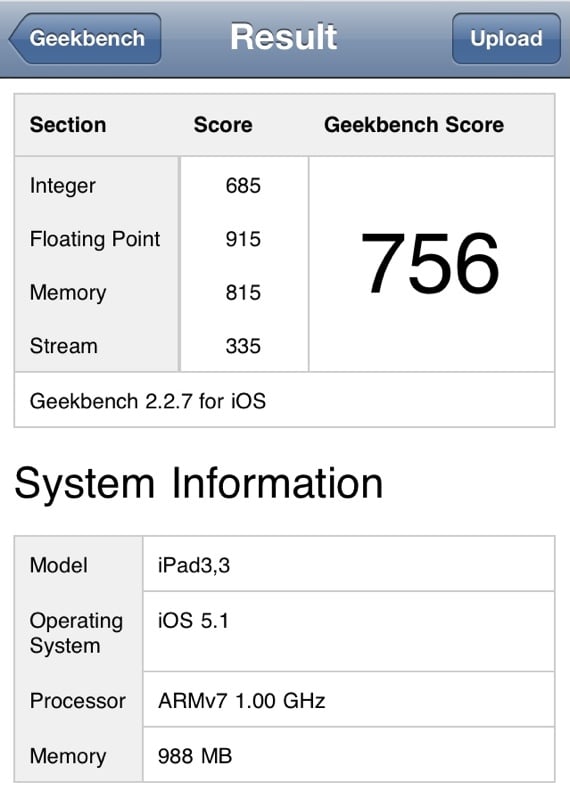 The app is coded for the iPhone, though it does run on the iPad, hence the small screengrab size. That said, a word of caution: it's not hard to Photoshop this kind of thing.
The iPad 2 contained 512MB of memory, but there'd been rumours that the new model would sport more. It's not an unexpected increase: quadrupling the number of pixels in the display will inevitably necessitate plenty more storage for image buffers.
More disappointing is the clock speed. Some folk had hoped the iPad 3's A5X chip, a tweaked version of the dual-core A5 found in the iPad 2, would run at a higher speed than before. Not so, it seems.
The Geekbench score, then, matches what we've seen from the iPad 2.
So, if you're buying an iPad 3, you're buying for the screen upgrade, not a performance boost. ®
COMMENTS
@AC
Every 6 months? Really? Odd that, I thought the iPad 2 came out a year ago, must be my mistake. And as to incremental being the "Apple" way care to tell us all a company who doesn't do that? Samsung who currently have NINETEEN different Android phones? HTC who have EIGHTEEN Droid phones? All just ever so slightly different. If your going to bash Apple at least try and focus on something they do actually suck at.
Theres also the slight matter that the iPad 2 was the best tablet around, the iPad 3 is a slight improvement making it by far the best tablet. Apple haters bash all you like but if what they do is so easy then why is it that no other company can compete? Wheres the iPad beater?
No performance boost?
What about the GPU?
I suspect the technical chaps over at Apple probably considered battery life. Do we really think they're going to ship this thing and then go "you're using it wrong" when people say the battery only lasts 3 hours?
Re: Of course its just the screen thats better.
"Count me unconvinced that they really care about being at the bleeding edge of tech, they only 'really' care about the $."
Well, duh! Did you only just work this out today?
Last time I checked, caring about the "$" is how you run a successful business! It's the whole damned point of it all! Apple have never claimed to be a charity, or into donating money to good causes to improve their reputation. (Google seem to like doing that shit, but it doesn't change the fact that they're an advertising company with an increasingly terrible search engine.)
Apple have never claimed to be into bleeding-edge technology either. Their not-so-secret sauce is design. It's all about the integration of technology to provide a high quality user experience. That's it. That's all they've ever done. They couldn't give a shit about the technology inside their products, because their customers don't care about it either. All they care is that the stuff works and is easy to use. Check out their customer service sometime as well; Apple tend to top the charts for customer satisfaction and customer service as well, because it's all part of their holistic approach to user experience design.
But, yes, it's fundamentally all about making pots of cash too. Oddly enough, it seems to be working rather well.
Re: Yes
You must've been in a coma whilst reading my reply. It was a fiasco - entirely created by the media and haters believed the hype