iPad 3 benchmarked
1GHz CPU, 1GB Ram confirmed?
The iPad 3 does indeed contain 1GB of memory and sports a processor clocked at 1GHz, it has been claimed.
So says one Vietnamese lad who managed not only to get hold of the device but to install the Geekbench performance testing app on it.
And, according to Geekbench, the iPad3,3 - the new tablet's internal moniker - has a gig of Ram and gigahertz-clocked ARMv7 CPU.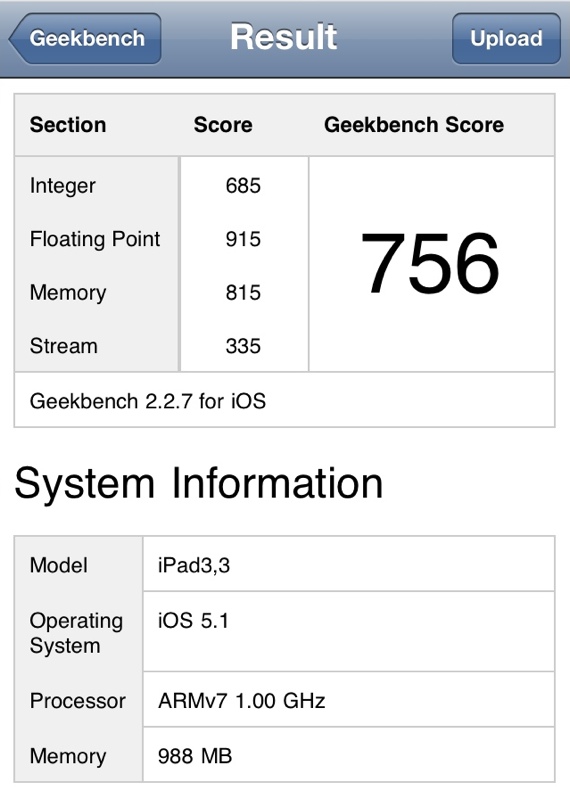 The app is coded for the iPhone, though it does run on the iPad, hence the small screengrab size. That said, a word of caution: it's not hard to Photoshop this kind of thing.
The iPad 2 contained 512MB of memory, but there'd been rumours that the new model would sport more. It's not an unexpected increase: quadrupling the number of pixels in the display will inevitably necessitate plenty more storage for image buffers.
More disappointing is the clock speed. Some folk had hoped the iPad 3's A5X chip, a tweaked version of the dual-core A5 found in the iPad 2, would run at a higher speed than before. Not so, it seems.
The Geekbench score, then, matches what we've seen from the iPad 2.
So, if you're buying an iPad 3, you're buying for the screen upgrade, not a performance boost. ®
Sponsored: Minds Mastering Machines - Call for papers now open