Dell working on cloudy analytics apps
Survey says SMBs want one SaaS throat to choke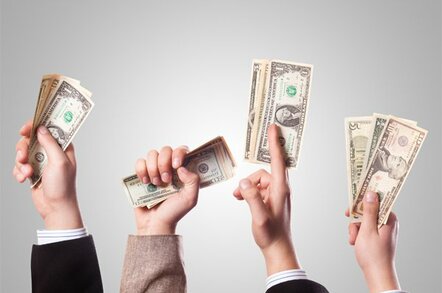 If you have a multi-billion dollar business selling servers and PCs directly to small and medium businesses, what happens when companies start shifting some of their computing needs to the cloud? You shift from being a manufacturer of IT gear to being a maker of cloudy systems and applications and a reseller of cloudy wares where you don't have products.
This is the ambitious plan that Dell has for its Cloud Business Applications division, which was created last August to focus solely on software-as-a-service applications and which is one of the units that John Swainson, the former head of CA Technologies and a software bigwig at Big Blue before that, is taking control of now that he is president of Dell's nascent software business.
To try to get a handle on what SMBs are thinking about cloud and SaaS, Dell commissioned consultancy TechAisle to survey these small fry and midrange shops to see how they have adopted cloudy wares thus far and what their expectations are for the near term. The survey was conducted in December 2011 by TechAisle on behalf of Dell among companies in the United States that had somewhere between 50 and 999 employees.
The big finding – and not a surprising one if you think about it – is that among the 400 companies that participated in the survey, 69 per cent of respondents said that they would prefer to buy their many cloud-based applications from a single vendor. This, of course, is not exactly possible right now, but it is early days in the cloud and this is what companies want, says Bill Odell, senior director of SMB cloud solutions marketing at the SaaS division at Dell.
"There are 10 million SMBs worldwide, and there is a sea change going on among them," says Odell. Like any other early adopters of technologies, those SMBs that made use of Salesforce.com for customer relationship management or services such as WebEx from Cisco Systems or GoToMeeting from Citrix Systems wanted to get on the front edge and solve their problems quickly, but they often had to cope with risk and integration issues. "Early adopters tolerate more risk, but mainstream customers won't accept risk and they want an end-to-end SaaS solution, too."
For a lot of SMB shops, having one throat to choke and one invoice per month is important. And thus Dell's Cloud Business Application division signed up to be a Salesforce.com reseller, and perhaps most significantly, allows customers to finance their Salesforce.com licenses and spread the cost out over a year on a monthly basis rather than having to pay the entire annual license upfront, as Salesforce.com itself requires customers to do. That puts a big damper on cash flow, which is precious at SMBs.
Dell's acquisition of cloud-based data and application integration service Boomi for an undisclosed sum in November 2010 is also part of the Dell SaaS picture, allowing Dell to quickly integrate with homegrown and third-party applications and to re-integrate quickly when these applications inevitably change.
Odell says that Dell is currently cooking up its own cloud-based analytics applications – something to "replace all those Excel sheets and macros" that SMBs use to run themselves – and will partner with other SaaS companies and make strategic acquisitions of SaaS apps to flesh out its app portfolio. In effect, Dell wants to become an Apple store for SaaS apps for SMBs, and make money providing the Boomi bridges between them. Dell's plan is to wrangle with SaaS service providers and get a unified of service level agreements across these disparate vendors and then sell these SaaS apps in its catalog and present its single throat for choking when things go wrong.
"A majority of SMBs want to have one vendor – a trusted partner with a single set of SLAs," says Odell.
Dell, of course, wants to be that trusted vendor. And its strategy of positioning itself as this SaaS channel seems a reasonable strategy for Dell right now, since the company doesn't have much of an application software business of its own – even if it has built up and bought some useful infrastructure and cloud management tools such as Boomi.
According to the TechAisle survey, 55 per cent of the SMBs polled said they had CRM apps running in the cloud, and perhaps more significantly, these CRM apps account for 70 per cent of their cloud computing spending. About half of the companies polled said that CRM was "mission critical," and a little more than quarter of those SMBs polled who had CRM apps in the cloud said they wanted to buy SaaS-based marketing automation tools. Another 26 per cent were looking on the cloud for business intelligence apps.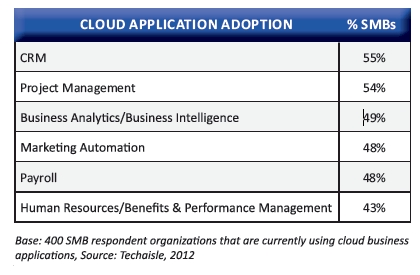 Cloud apps in use at SMBs
While CRM apps lead the way in SaaS among SMBs, project management is not far behind, as you can see from the table above. They are also using a variety of analytics, marketing, payroll, and human resources services, too. Two years ago, SMBs told TechAisle they had, on average, two SaaS apps, but by last year that had doubled to an average of four apps across the 400 companies polled, which they expected to grow to an average of seven apps total this year.
The early adopters of SaaS products by SMBs had plenty to complain about, apparently. Forty-nine per cent said that it took longer than anticipated to deploy the cloudy apps, and 41 per cent groused about limited integration their cloudy tools offered with other applications they used. Some 36 per cent said that the lack of customization in the SaaS apps was a problem, and so was a lack of planning on the front end to avoid deployment and integration issues. However, almost all of those polled (87 per cent) said they were getting good value out of their SaaS apps. ®
Sponsored: Minds Mastering Machines - Call for papers now open