WD acquires Hitachi GST for $4.8bn
And then there were three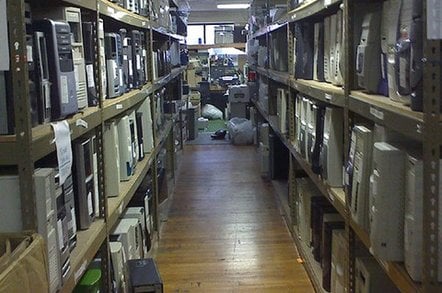 One year after Western Digital announced it was going to acquire Hitachi GST the deal is done, but only after conditions imposed by three different regulatory agencies have been met.
Western Digital (WD) has bought Viviti Technologies, formerly Hitachi GST, for $3.9bn in cash and 25 million WD shares worth $0.9 billion; a total price of $4.8bn. Hitachi Ltd now owns about 10 per cent of WD's outstanding shares and can designate two people to be board directors of WD.
WD will now own and operate WD Technologies (WDT) and Hitachi GST as wholly-owned subsidiaries. The CEO of the whole shebang is John Coyne who yesterday was CEO of WD, and the president is Steve Milligan, former CEO of Hitachi GST. Tim Leyden is the COO and Wolfgang Nickl the CFO; both effectively retaining their previous WD positions in the new WD.
John Coyne's statement called it "a truly momentous event" and so it is. The HDD industry shrinks from four to three players, with WD now competing with Seagate and Toshiba in what looks to be a stable industry triumvirate.
The Chinese regulator's have set a condition that the two companies have to operate independently for at least two years, Coyne said, making a marketing silk purse out of this sow's ear: "Similar to successful multi-brand models in other industries, the two subsidiaries will compete in the marketplace with separate brands and product lines while sharing common values of customer delight, value creation, consistent profitability and growth."
The profitability hope is based on HDD sales growth. WD's release cites an IDC forecast predicting HDD industry revenue growing at a compound annual growth rate of 8.6 per cent per year from 2011 to 2016. Three suppliers should be able to carve that up nicely enough.
Coyne described the benefits to WD of the acquisition; "We have acquired a strong presence in the traditional enterprise market, substantially increased our presence in the industry's fastest-growing segments — cloud and mobility — and improved our capability to address new market initiatives such as enterprise SSD, storage solutions for small business and low-profile HDDs and hybrid drives for Ultrabooks."
Neither WD nor Hitachi GST have hybrid drives, disk drives with a flash memory cache, in their product lines or public product roadmaps. It looks like Hitachi GST has a single platter, 2.5-inch hybrid drive in development.
So what have we got here? We have a 5-player industry featuring Hitachi GST, Samsung, Seagate, Toshiba and Western Digital shrinking to three over an (at least) two year period. Seagate is buying Samsung but has to operate it at arms length for one year due to Chinese conditions. WD is buying Hitachi GST but has a two year limbo before it can apply to the Chinese guy to formally integrate its two subsidiaries.
Toshiba is getting two legs up into the 3.5-inch disk drive business by getting Hitachi GST's disk production and some off-loaded WD production too. It is, in manufacturing capacity and HDD technology terms, an unanticipated gainer from the WD-HGST acquisition. Furthermore, because it has its own flash foundry, unlike either Seagate or WD, it is arguably well-placed to add flash caches to its disk drives.
Neither of the two wholly-owned Seagate or WD subsidiaries are going to undertake any financial adventures or go headlong into risky technological transitions such as embracing heat-assisted magnetic recording to increase areal density beyond coming current perpendicular magnetic recording (PMR) limits.
The two big cheeses in the industry, Seagate and Western Digital, each with about 40 per cent of shipped units, see flash memory as not having the manufacturing capacity growth rate needed to undertake any significant replacement of disk drives by SSDs. For bulk storage of 90 per cent and more of the world's data disk drives are the only viable and foreseeable technology for the next few years. Toshiba is surely of the same mind.
Against that background there is no need to experiment with risky technology transitions when capacity increase progress can be made by adding heads and platters to existing drives. Thus 500GB/platter 2.5-inch drives can produce 1.5TB capacities with three platters and 1TB/platter 3.5-inch drives can go to 4TB with 4 platters. Rev the PMR technology one more time and we can hope for 750GB 2.5-inch platters and 1.5TB 3.5-inch platters with resulting 2.2TB 2.5-inch drives and 6TB 3.5-inch drives.
Adding flash caches to the current set of drives will increase hot data access speed, it is hoped. Ultrabooks will need storage with strong data transfer rates and capacity at an affordable price before the mass-market can enjoy Intel's generic follow-up to Apple's MacBook Air.
All in all, despite the irritating and onerous anti-competition regulatory regimes and the Thai flood disaster which particularly affected Toshiba and Western Digital, the HDD industry looks to be in a good and profitable place for the next few years. ®
Sponsored: Minds Mastering Machines - Call for papers now open