Computer system designer jobs boom in the US
Unemployment rate holds steady
The US economy continued to add jobs in February, with a big jump among firms engaged in computer systems design. But enough people came back into the labor pool after sitting on the sidelines for heaven knows how long that the official unemployment rate held steady at 8.3 per cent.
The Bureau of Labor Statistics said in its February 2012 jobs report [PDF] issued today that non-farm payrolls grew by 227,000 last month.
In further good news, it also said that hiring was better in December and January than had been previously calculated. Non-farm payrolls in December rose by 230,000 in December, not the 203,000 originally stated two months ago, and were up even higher to 284,000 in January, not the 243,000 reported a month ago.
The bureau is a unit of the Department of Labor that surveys businesses to build up a picture of jobs held at companies operating in the US as well as conducting a household survey to calculate the unemployment rate.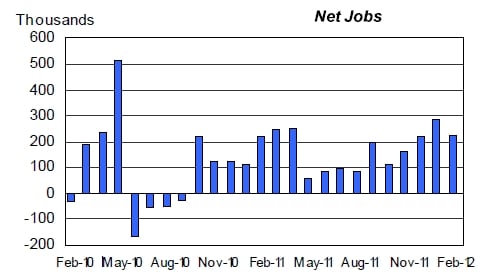 It is not unusual for the BLS to revise the net-new payroll count upwards in the months after issuing a jobs report, and this has been happening with regularity during the recovery in the wake of the Great Recession.
In a "big data" world that companies like IBM are always talking about, you would think that instead of modeling data about the employment situation, as the BLS calls it, Uncle Sam would actually be counting real jobs.
But that's not how it works. And the upshot is that the US is still looking at jobs in the country based on the industry where those jobs are located – not jobs by title, function, and salary – and the counts are estimates based on real data, but are not the actual complete data set. More importantly, it shows the data set the BLS is emulating is not as useful as it could be. People may work within industries, but they do specific jobs that are the same across industries.
The good news this time around is that local and state governments as well as the Feds have cut back drastically on job slashing in February, only chopping 6,000 jobs this time around. Total private employment rose by 233,000 and is up 518,000 in the past 12 months.
Professional and business service companies added 82,000 workers last month, with 10,000 new jobs (seasonally adjusted) for those engaged in computer systems design and 7,000 more added in management and technical services.
These areas had been shedding jobs in recent months. Healthcare companies added a net 61,000 workers, and the leisure and hospitality industry added 44,000 employees. Manufacturers hired 31,000 additional workers in February, and the mining industry added 7,000 people to the payrolls.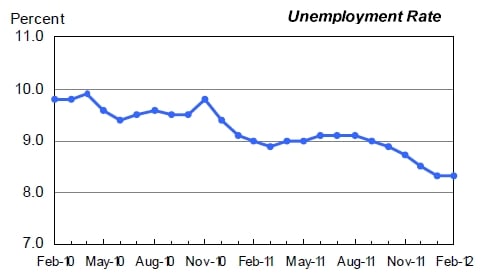 I think seasonally adjusted data is suspicious and untrustworthy, particularly during times of economic tumult, which we have had over the past several years, and especially right now, when the US weather has been particularly mild, helping to buoy retail sales and boost the economy in a number of ways. Luckily, the BLS has raw data in its report as well as seasonally adjusted data, and we can drill down into the raw data to get some sort of sense of how the IT portions of the various industries performed (or didn't perform).
Within the manufacturing sector, the raw data says that companies engaged in the computer and electronic products industry added 100 jobs, to over 1.1 million workers. And within this sub-sector, computer and peripheral equipment makers added 600 workers, to 162,800, but communications equipment makers shed 500 workers, to 110,600. Semiconductor and electronic component makers had 386,700 workers, 800 more than at the end of January.
The "information" sector is where the BLS lumps together publishing in its many forms, telecommunications, and data processing and hosting. Telcos shed 4,400 people and now employ 842,500 people, and data-processing and hosting companies added 3,800 people and now have 241,700 getting paychecks.
In the raw data, computer systems design firms added 14,000 workers, and now employ 1.56 million people across the country. Management and technical services firms added 12,600 people, to just over 1.1 million. These raw numbers are much higher than the seasonally adjusted data cited above. ®
COMMENTS
So what?
Funny that, all of this focus on unemployment in the States yet the two elephants on the dance floor Outsourcing and VISA abuse get no mention in the commodity media.
Despite the unemployment situation the VISA caps are still being raised and there are many more different kinds of VISA with overlapping access and outsourcing still continues to drain real jobs out of the US.
H1B Visas
In the US, the surge in logging for and steadily increasing H1B visas -originally established as an emergency stop-gap measure to ensure sufficient scientific personal were available to American industry- now has agencies recruiting and importing anyone for anything. When the US isn't exporting work, they are importing labor; all the while not addressing illegal immigration that further dilutes the work force driving down wages. Yay.
Re: ARE THEY
You work in the US you pay US taxes. If you are a US citizen and earn more than $100k in money over seas Uncle Sam wants his cut . Some how they same does not apply to corporations .
Re: ARE THEY
I agree with the UK points. Too many projects these days are staffed by non-UK'rs. I'm sure a massive dent in UK unemployment could be made by having local UK staff. Most of the guys we have have little actual experience.