Microsoft reveals low-end WinPho limitations
Lumia Tangoed
Microsoft has revealed the limitations that low-end Windows Phones could suffer from due to their substandard specifications. And it doesn't look good for Nokia's Lumia 610.
The Tango update allows devices to run on just 256MB of Ram rather than the 512MB previously required. It also supports low-end processors with less than a 1GHz clock speed.
Unfortunately, this means that those 256MB Ram handsets such as the Lumia 610 are unable to run certain apps, manage podcast subscriptions or watch podcast videos.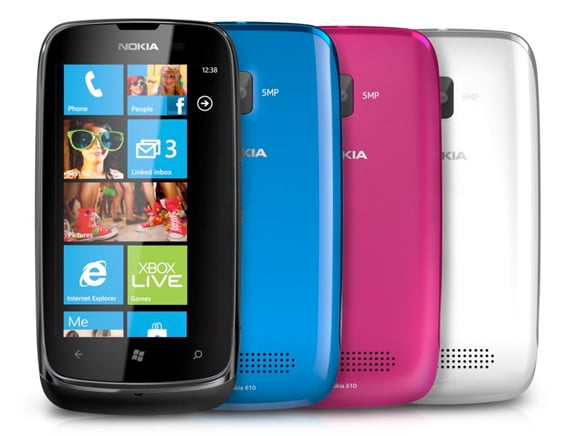 The company has disabled features such as SkyDrive, HD video playback and background agents, while the fast app switching feature that appeared through the Mango update has also been omitted, essentially making multitasking redundant.
As a result, Microsoft encourages developers to be careful with their memory use and offer reduced functionality versions of apps for the lower-end models.
If you're thinking of getting a Windows Phone, you may want to consider these things first before splashing out on a budget version.
The update will roll out around the same time as these lower-end Windows models hit the shelves sometime in Q2 2012. ®
COMMENTS
This will sell beautifully in third-world countries...
...like Britain.
Well, at least the buyer's been warned.
Cheap phones will have cheap functionality. I at least give Microsoft credit for being upfront about the whole business.
"Microsoft encourages developers to be careful with their memory use "
Ha, Haha, hahaha (snort) ahahaha.
Chortle. Snort.
OK, take a lesson on memory management from the Great God Vista.
Wahahaha! (Help me from the floor, someone...)
Re: Well, at least the buyer's been warned.
You certainly have to set your expectations lower but that said there are PAYG android handsets for less than £100 that boast 512MB, 800x480 capacitive displays. I'm not sure I understand why Nokia / MS saw fit to gimp the phone's memory like this. How much would 256MB RAM add to a phone's cost anyway? 50p?
If they want to save money they'd be better off to do what some Android sets do and restrict the amount of flash and shove an SD slot into the device for users to augment it if they want.
"Damn! I could have bought an Android and had the joys of crashing, malware and Java in my life! What was I thinking?"
Android doesn't run Java and even if some apps are written in Java it is completely irrelevant to end users.
As for crashes, there is a simple solution to that. Uninstall the app, mark it down or get in touch with the dev to fix the bug. Why is this any different to any other phone OS? If apps are bugged or crashy they'll simply get marked down in favour for apps which do what they're meant to do.
As for malware, welcome to a world with freedoms. Freedom carries risk and requires a person to exercise some common sense. No one would stop you (for example) installing some dodgy chinese marketplace app that promises games for free but it will be your own damned fault if you do. Exercise some personal responsibility and stop expecting big brother to protect you from making stupid decisions.