MICRORAPTOR dino-pigeon lured mates with glowing feathers
Ooh, hey pretty bir- AAAARRRRGGGH
It would have picked holes in your eyeballs if it got its little claws on your face, but it might have glowed prettily just before it did.
Scientists from Beijing and the US have discovered that the pigeon-sized Microraptor dinosaur would have had nice shiny feathers after painstakingly analysing a fossil found in Northern China.
The meat-eating dino-pigeon also sported a rakish tail plume, according to the report published today in the journal Science. Having no obvious practical function, researchers assume that the plumage and its glossiness would have helped microraptors recognise their own... and attract mates.
In modern birds, iridescence in feathers occurs when melanin-containing organelles are arranged in a certain way – packed in narrow stacks. When the researchers delved into the nano-structure of the fossilised feathers, they found the same narrow stacks of organelles and were able to estimate the shininess of the dino, which has been dead for 120 million years.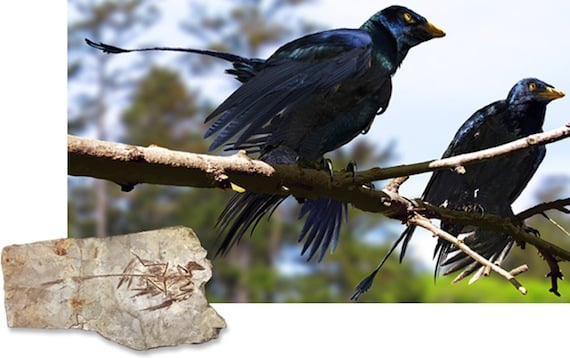 The discovery about the feathers has also led the scientists to another conclusion about Microraptor: it is likely that it flew the skies looking for soft meat around dawn and dusk, rather than night as previously thought.
The microraptor has surprisingly large eye sockets, suggesting it had big, light-sensitive eyes, which originally led scientists to believe it was active at night. However iridescence is only a quality that is useful to creatures active in the day, so the new feather finding suggests that microraptors most likely roamed in the twilight hours. In the semi-light their large eyes could have helped them see their prey, while their glowing feathers and long wavey tail feather would have lured the ladies... and gents.
Reconstruction of Microraptor and the Evolution of Iridescent Plumage was published in Science on 9 March. ®
Sponsored: Minds Mastering Machines - Call for papers now open