Souped up CPU
The high-resolution screen needs powerful grunt to make it work. The A5X processor is not quad-core, as some had hoped, but it has twice the graphics performance of the iPad 2, I'm told. I tested a couple of games and they played very smoothly, with advanced graphics, to boot.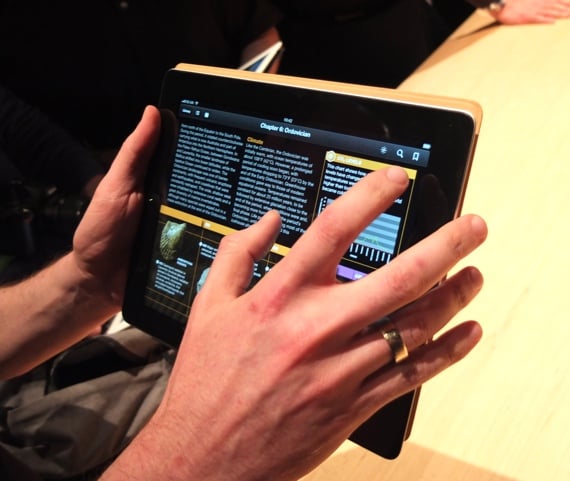 Text is so much crisper on the new screen
There's no Siri on the iPad, which is a shame. But at least the best part of Siri, the capability to dictate emails, text messages and the like, is here, accessed using the same microphone icon that's found on the iPhone 4S' keyboard.
If you've used Siri for dictation, you'll know it can be cranky – if you get a word wrong you have to start over. Here, you can edit and correct easily. Though, to be honest, Nuance's Dragon Dictation does just as good a job.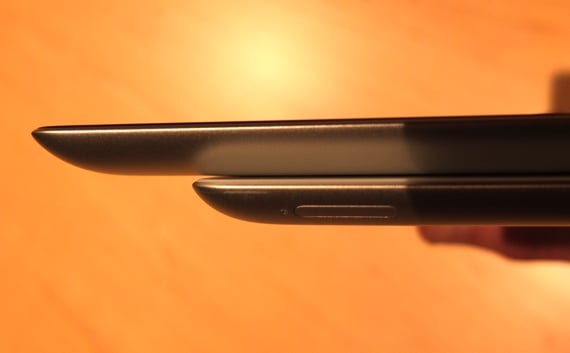 The new iPad (top) is only fractionally thicker than the previous model (bottom) but it's the extra weight you notice
Incidentally, you may be wondering, why haven't I talked about the look of the new iPad. Well, you know the iPad 2? That's what it looks like. It's identical, near enough. Sure, it's thicker by about half a millimetre, but it's hard to spot this.
More noticeable is the weight. It's 50-55g heavier than the last edition, but still not exactly heavy. But there are lighter tablets on the market, most notably Toshiba's Android-based AT200.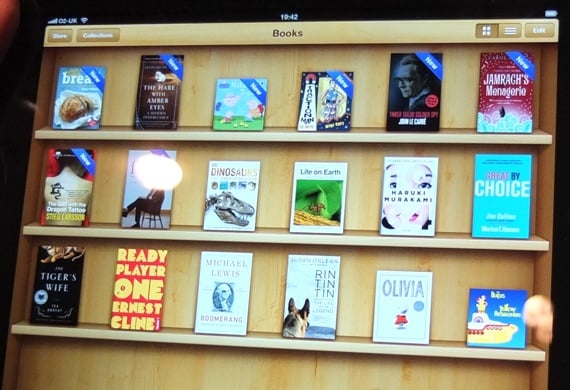 The iPad finally comes into its own as e-book reader
Apple showed off an app or two last night, mostly games that made the retina display look good, but also iPhoto, a more advanced programme for image manipulation, editing and organisation than the iPad's built-in Photos app.
The best feature here came from the app's intelligent way of recognising images. As you create an album, you can add a map and the app creates one according to GPS info on the images. Add a calendar and it drills down to find the date the photos were shot.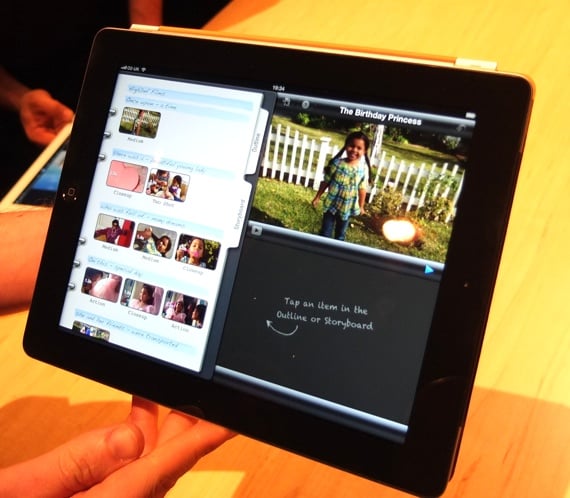 Apple's apps are getting retina display makeovers
And, even better, add a weather banner and the app finds out the temperature on the day the photos were taken, in the place you took them, and adds that. Very cool. Other apps, like the already available Garageband and Apple TV Remote added extra features and support for the higher-resolution display too.
So, should you be ordering a new iPad? If you haven't had a tablet computer before, this looks like it is head and shoulders above the competition, but the iPad 2, which will be re-released at £329 for the 16GB Wi-Fi model, is better value.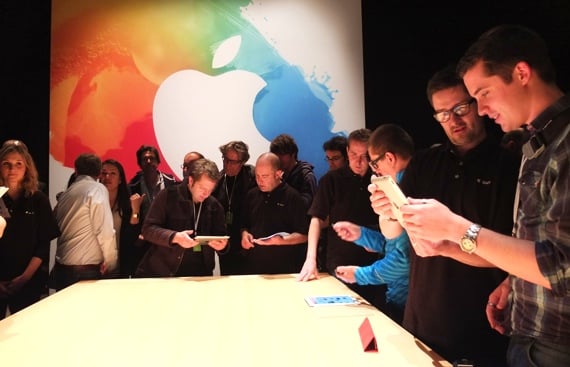 Fanboys and fangirls plan their upgrade strategies
If you have the iPad 2, the glorious 2048 x 1536 screen is reason enough to upgrade. But think carefully about how many apps you use that will take advantage of the higher pixel count. Existing apps will be upscaled to fit, and they don't look as good as retina display compatible software does.
At least Apple isn't charging extra for the new machine – it matches last year's pricing, starting at £399 for the 16GB Wi-Fi only model, rising to £659 for the 64GB 3G/4G version. Apple is taking orders now, and the new kit will arrive on 16 March. ®
More Android Tablet Reviews

Lenovo ThinkPad
Tablet
Asus
Transformer
Prime
Motorola
Xoom 2
Media Edition
Amazobn Kindle
Fire
Ten high-end
Android
tablets
Hands on with the Apple iPad 3
COMMENTS
eye strain
"Text is super-sharp, the jagged edges of letters quite invisible. It stops reading e-books being the strain on the eyes"
So eye strain is not caused by backlit displays but by low resolution text. better tell all the kindle owners they wasted there money
Re: rhyming "a" with "toupee"
Does that mean that you pronounce, "hell to pay" as "hell to poupee"? That must play havoc with popular song lyrics:
Though Oupeepril showers,
Moupee come your woupee,
They bring the flowers,
Thoupeet bloom in Moupee.
Come to think of it, that's probably a Eurovision contender.
Re: Ports?
Dear Sir,
Allow me to assist you with your easily googled queries.
The back of the new iPad is encased in aluminium, sculpted into two cheeks for a comfortable and slightly arousing grip, unbroken by ports it sports a recessed apple logo where the goatse would lie.
There are no USB sockets on the new iPad, it is therefore unpossible to connect any sort of peripheral, charging is accomplished by shaking the device in a rhythmic fashion to activate the self winding mechanisms within.
Headphones may be attached to the new iPad via the industry standard quarter inch socket.
Finally, please be assured that in these enlightened times using an iPad is no more an indicator of your sexuality than sporting a moustache or joining the priesthood.
Yours Sincerely,
Jubtastic One
Sent from my iPad.
Re: better tell all the kindle owners they wasted there money
OK.
"Hey, all you Kindle owners - you wasted your money!"
You're welcome.
Re: non standard Apple 2048 x 1536 V a real Samsung WQXGA panel at 2560 x 1600, no contest
Rolls-Royces are supplied with "sufficient" horsepower, dear chap. "Adequate" horsepower sounds somehow... inadequate.