Peter Molyneux parts with Microsoft and Lionhead
Gaming maverick cans plans
Peter Molyneux has called time on his position at Microsoft and Lionhead Studios, after 15 years involvement.
The man behind titles such as Fable, Populous, Black & White and Syndicate dropped the bombshell on Twitter.
"I have left the lovely amazing Microsoft and Lionhead," said Molyneux.
"Now for something really amazing, scary and brave, a new company called 22 Cans."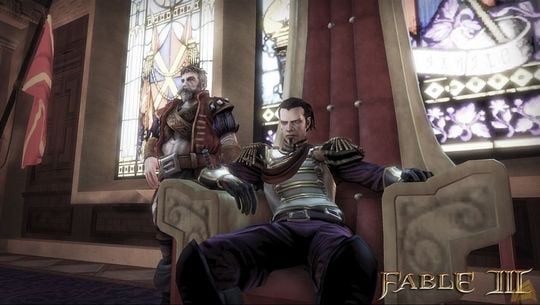 Time to get off the throne
Molyneux's career spans back to 1982 distributing Atari and Commodore 64 titles on floppies. Founding Bullfrog Production in the late eighties, Molyneux created the God sim genre of game with his work on Populous.
After flogging Bullfrog to EA, he went on to set up Lionhead Studios in 1997 ahead of its acquisition by Microsoft in 2006.
He was awarded the Bafta fellowship last year in recognition of his glittering career.
"As co-founder of Lionhead and an integral part of Microsoft Studios, Peter was the creative visionary behind the blockbuster Fable franchise, and one of our most passionate and influential developers for the Xbox 360 platform. He has made an indelible mark on the games industry and we wish him all the best of luck in his future endeavours." said Microsoft. ®
COMMENTS
22 Cans?
does that mean that by the time they launch there first came they will be known as "2 1/2 Cans" with a promise that for the next game there will be 30 Cans?
Populous, I'll give you.
Syndicate, I'll give you.
Hell, even Theme Park, Magic Carpet and Dungeon Keeper were good.
Since then? All downhill. And little that's "famous" outside of the Fable franchise. Black & White was the tipping point. After that, it's all just junk.
Some games designers were brilliant in the 90's, less so nowadays. He's one. And the franchises he did create, were sold off to junk and poor remakes (Syndicate! Gah!).
But still - Bullfrog got you a lot of credit, but I'll never forget what you did to me with Black & White, where the second level in basically took my creature (the whole POINT of the new game and I'd barely learned how to control it) away from me. It never lived up to the hype, and nothing since has been able to.
Fool me once....
Hype: The user will play a part in an epic game where the player must develop a relationship with 22 different cans. Every can will have its own AI and personality, and react to the user's emotions and voice through a compelling, intimate story telling experience. The game will even be able to detect voice nuances and facial expressions all through the power of Kinect. It will be so immersive that the player will involuntarily reach out to the screen, so real and strong will their bond become with each can.
Reality: Kick the can game where user performs exaggerated flailing kick motions that map onto 10 predetermined outcomes.
The problem with Peter...
I liked the movies.
But the Problem with Peter is he's too much of a dreamer. He talks up his new projects when he's still in his "dreaming" phase, only for them to be hit with cold hard reality later; so we're left with a product that overpromised, and underdelivered....
Black & White
Possible one of the most overrated video games in history.