Facebook IPO to stuff $2.5bn in California tax coffers
Zuckerberg & Co. bail out Golden State
California state budget analysts report that Facebook's impending IPO will bring the state a tax windfall of nearly $2.5bn.
"Facebook's possible IPO ... [is] likely to generate substantial capital gains and other income for a small number of Californians and, in so doing, generate additional state tax revenues over the next few years," concludes a recent report from the California Legislative Analyst's Office (LAO).
You know that you're an important US company when the state with by far the highest GDP in the country lists you as a line item in its projections for personal income tax: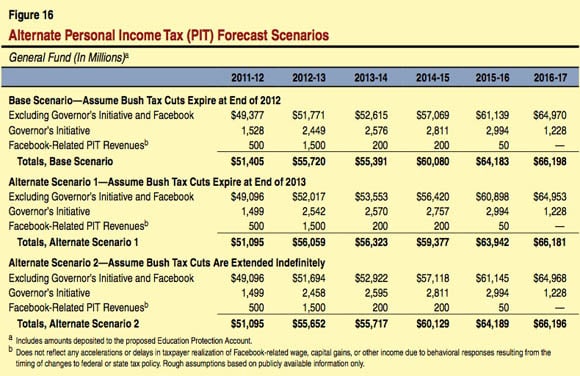 The Facebook IPO – more influential to short-term state revenues than the Bush tax cuts (click to enlarge)
That ginormous chunk o'change will be delivered to the Golden State's taxmen thanks to newly minted Facebook millionaires and billionaires paying capital gains taxes when they exercise their stock options.
The LAO cautions against the uncertainties of the market, and notes that it's impossible to plan any Facebook windfall with any precision. That said, the report advises that "given that an IPO clearly would benefit state revenues, we believe it is appropriate for policymakers to incorporate this into their budgetary discussions."
Although the report's projections assume a $100bn market cap for Facebook at the IPO, the LAO's analyst, Mac Taylor, was clearly crossing his fingers as he typed the report.
"If the IPO results in a market capitalization of well over $100 billion and/or Facebook's stock price climbs significantly above its IPO level (particularly in the first 6 to 12 months after the IPO)," he writes, "the state revenue benefit could be $1 billion or more over the level we assume, spread across a few fiscal years."
Ah, Mark Zuckerberg, how does it feel to hold the fate of 38 million Californians in your 27-year-old hands? ®
Sponsored: Minds Mastering Machines - Call for papers now open