Future car tech
What's coming under the bonnet and in the cabin
Road train
Sartre requires no road-based infrastructure depending entirely on telematic links between the slave vehicles and the leader of the pack. Entering or leaving a platoon will be handled entirely automatically by the system using information collected from cameras and radars built into the platooning vehicles.
If you took a look at the car tech on display at the Consumer Electronic Show (CES) in Las Vegas this year then the big idea was quite clearly head-up displays as the preferred way of relaying ever more info to the driver.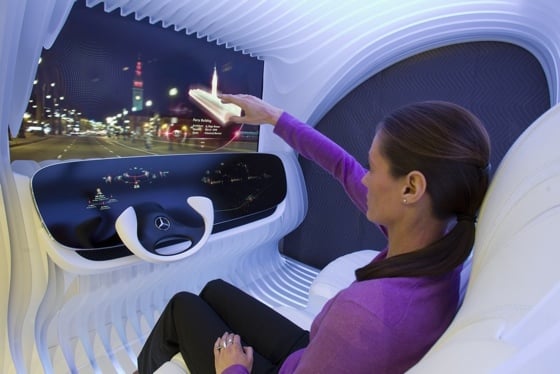 Heads up: Mercedes-Benz's DICE will hopefully not be used while you're driving - and appear in a more tasteful interior
Mercedes-Benz's vision of the future is the Dynamic & Intuitive Control Experience, aka DICE, a system that floats a virtual instrument panel over where the dashboard usually sits and projects everything else onto the windscreen.
Whether or not having incoming calls, local POI information and Facebook updates suddenly flashing up between you and the road ahead is a good idea remains to be seen, but there is no doubt that the system is visually very impressive.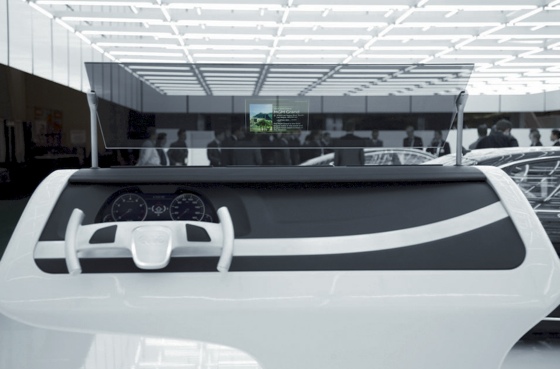 Audi's Super Head-Up Display
Displaying rather less imagination with its naming Audi has called it's super head-up display the Super Head-Up Display. This system looked much closer to production to me than Mercedes' offering and features three screens that are projected onto the windshield.
One is for the driver, one for the passenger and there is a shared one in the middle so you can argue over who controls the stereo.

Hyundai's 'Hologram' HUD is designed to appear in 3D, and ties in with its driver-monitoring tech
The clever bit about the Audi system is that it can project images in such a way that they appear much further down the road than usual - 30 meters plus - so satnav guidance graphics can be pasted over the real world in line of sight and at life size, augmented reality style.
General Motors' take on all this is use the rear side windows of your motor as a touchscreen gaming platform. The system is called Windows of Opportunity, or WOO, which is the noise the young 'un makes when looking out of the side window of a car for too long makes him car sick.
Sponsored: Minds Mastering Machines - Call for papers now open