AOL joins advertiser exodus from Rush Limbaugh
Portly pundit sheds sponsors over 'slutgate'
AOL has joined the growing band of companies who are dumping their advertising with US radio shock-jock Rush Limbaugh over his comments in the "slutgate" saga.
"At AOL one of our core values is that we act with integrity. We have monitored the unfolding events and have determined that Mr. Limbaugh's comments are not in line with our values. As a result we have made the decision to suspend advertising on The Rush Limbaugh Radio show," the company posted on its Facebook page.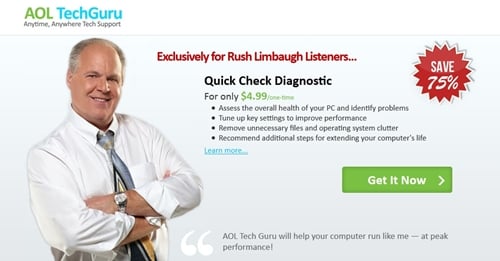 You've got dumped!
This is a major blow for Limbaugh, since AOL is one of the largest advertisers on his show, which the company uses to push a specially branded version of its TechGuru diagnostic software. Cloud and virtualization specialist Citrix dumped the presenter on Friday after a storm of protest on Twitter and other social media, but AOL had been holding firm and not responding to press requests.
The so-called "slutgate" fiasco began last week, when Rush described Georgetown law student Sandra Fluke as a "slut" and a "prostitute" after she tried to give testimony on the poor availability of contraceptive and hormone therapy at her Catholic college. Over a series of days, Limbaugh repeatedly claimed she was asking for the government to pay for her to have sex and suggested she should post online sex tapes as recompense.
After Citrix and others dropped support for his radio show, Limbaugh issued an apology – of sorts – over the weekend. He said that the attacks were not meant to be aimed personally at Fluke, and said that he had chosen the wrong words in his analysis of the situation.
Based on AOL's reaction, this was too little, too late – although the company is simply suspending its advertising, and may restart once all the fuss has died down. ®
Sponsored: Minds Mastering Machines - Call for papers now open