Roccat Kone [+]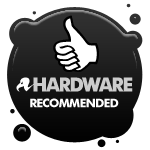 Again, another upgrade with an improved hyper sensitive 6000dpi laser. I have come to love the Kone. It might be expensive and not quite as bling as some of the mice here but it has an irresistible number of plus points.
The Kone's software is consistently impressive – it's innovative Easyshift button, even though strangely placed, knocks it to the top of the customisation table with almost infinite personalisation. Like the shift button on your keyboard, it opens up a wealth of secondary functions. Being able to control Windows Media Player through my mouse is just plain awesome – of course, anyone can point and click, but its programmable macros are something else. The mouse features a tracking control surface test that makes sure I have no jitters, even at the highest DPI. I think Roccat should be applauded for attention to detail here, as the Kone [+] is solidly built and incredibly accurate.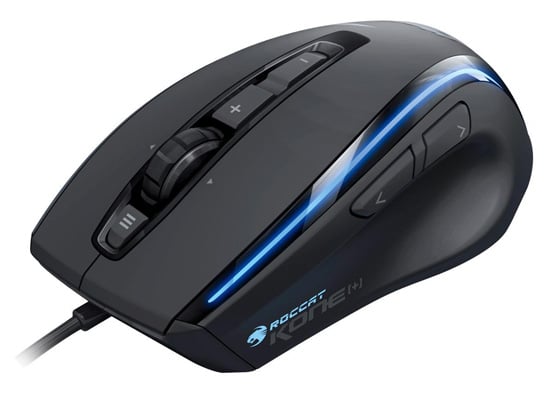 Reg Rating 90%
Price £60
More info Roccat
Steelseries Kana

There is a fine line between looking simple and stylish and looking cheap. Alas, I feel the SteelSeries Kana manages to achieve the latter. Keeping things simple means you can also keep your costs down and the ambidextrous Kana offers a good mix of price, features and performance. The optimised 6-button layout has a 3600FPS optical sensor which was impressively responsive. The illuminated scroll wheel with LED has intensity settings that compliment the Kana's simple aesthetic.
Two large-sized buttons are well placed and comfortable too and its Teflon mouse feet glide across cloth or plastic mouse mat surfaces smoothly. The Kana's respectable hardware specification matched by easy to use software and a realistic price. However, this Kana is somehow seriously lacking a wow factor compared to other mice featured in this review. ®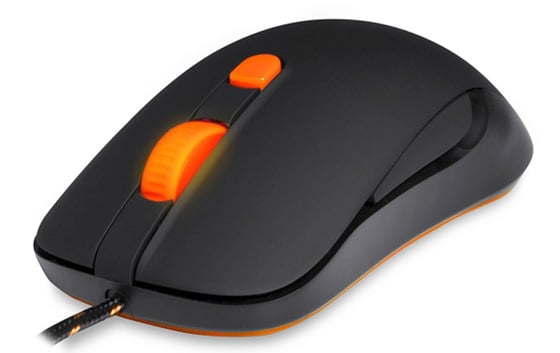 Reg Rating 75%
Price £50
More info Roccat
COMMENTS
Think of the lefties!
So, any recommendations for a semi-decent FPS mouse for us deviant lefties? I physically can't use alot of the mice you feature here!
Re: Is it me......
If I got a girlfriend, my wife would divorce me, and then I wouldn't see my son as much and my business would suffer.
But why
Are most of them so fugly and un-ergonomic? Swear I have RSI just from looking at them.
Am I the only one who appreciates function over pointless styling?
Honestly it looks like decided that the rodents only function was to match an Alienware box or laptop.
Two things:
First, why doesn't anybody talk about latency? There's an obsessive focus on accuracy (which is #2) but no mention of click-to-fire time, where an extra millisecond or so can make a huge difference. In the world of PC game controllers, FFB steering wheels come in with horrid results, often having 300, 400ms of lag (my company having built our own, I'm not sure how they manage it really, but I'm still not entirely happy with the performance of ours).
Second, 6400dpi?! What the? If you've got your mouse set to do a slow 360 degree rotation in, say, 3" (it's been a while since I've played an FPS, but that seems about right from feel), you'd have, what, 50 counts per degree? With a horizontal FOV of 120 degrees you'd be looking at 6000 counts left-to-right onscreen.
Is there anybody who's positioning himself within 1/3rd of a pixel (on a 19x10 screen)? Is there any game that would understand that? I mean, maybe now games are doing subpixel rotations and there are supreme badasses out there who can discern that enough to be useful. But it seems like they'd be few and far between.
Even without all of that, I defy anybody to say they can position that fucker within 1/6400th of an inch, with their hand. The stickslip from the mouse to the pad will defy that, no matter what kind of space-age material your mouse pad is made of. And 1/6400th of an inch is a very, very, VERY small amount. I build motion platforms and the requisite servo systems, and am broadly familiar with CNC machining gear, and half a thousandth is getting pretty fine. Thinking your hand is going to reliably, and with any meaningful result, match that performance while holding onto a little brick sitting on a piece of fabric / plastic, when what you're seeing is delayed by several milliseconds *anyway*...
If you ask me, you'd be better off getting a CRT projector or a CRT monitor, which will lop at a minimum several ms off your visual latency. It's bad enough with even a fast LCD monitor (gray-to-gray is pointless; I'm talking *latency*), but with a TV you can usually go get a cup of coffee between the arrival of a bit at the HDMI port and its eventual display on the screen. The Sonys we use are, at 720p in 3D mode, with 'gaming' on, barely, barely acceptable for driving sims. For FPSes it'd be utterly hopeless.
So, on the assumption that (shudder) I'm wrong - what is there to justify that number, aside from marketing? Is effective resolution really 1/5th of that number due to noise or jitter, or due to inaccuracies in manufacturing the hardware?
Also, what the hell is up with that Mad Catz Cyborg monstrosity? Even if it was the best mouse in the world, I'd keep it in my drawer when I wasn't using it in case someone saw it. It's like they took a graphite shell shaped like a mouse, filled it orange jell-o, and hit it with a hammer until the marketing guys said to stop. Eruughh.
fell asleep
Reading the second paragraph, zzzzzzzzzzzzz