Hackers print tiny Linux box to net up your home
Ninja Block does for automation what Raspberry Pi does for coding
The Raspberry Pi is a tiny computer designed to get you writing programs. Here's a tiny computer designed to get things done in your home and out of it without writing a single line of code.
Called the Ninja Block, it's an open source hardware gadget running Linux that's designed to accept feeds from external sensors - it has some on board too, including a thermometer and an accelerometer - and route the data to the web.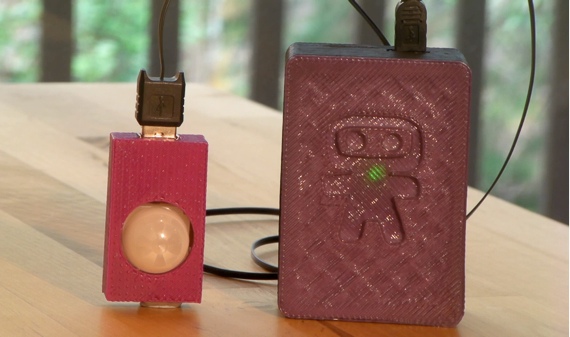 Prototype Ninja Block (right) with a motion sensor
You use the web-hosted control system, called Ninja Cloud, to set up simple rules to trigger web services and devices connected to a Ninja Block, based on the incoming signals. It's largely done with drag and drop.
Inputs can come from the web too - Xbox Live sign ins, files arriving in your Dropbox, incoming Tweets, Facebook mentions - and even from Apple's Siri voice control tech.
Each Ninja Block has an Ethernet port for connectivity and a simple LED for feedback. Reference schematics for the hardware have been posted online under a Creative Commons licence. It's based on the Beagle Bone board.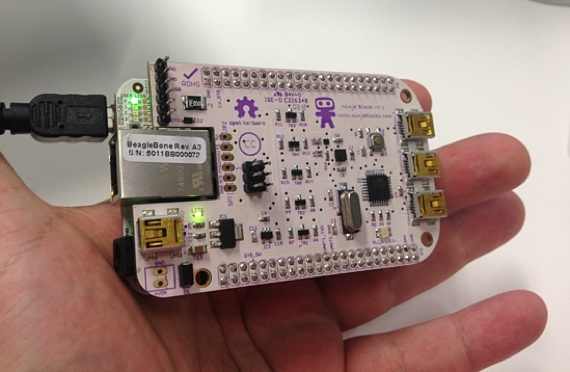 The Beagle Bone board
The Block connects to other sensors through its four expansion ports, and there are specs for that too. The guys behind Ninja Block are working on an initial array of humidity, motion, light, sound and distance sensors, plus a simple push button trigger.
You can also connect by USB, or reserve that for a Wi-Fi dongle. You can add controllers too, such as infrared beamers.
And just to keep the tech cutting edge, the Block and its sensors come in a 3D printed casing. It's driven by a 5V power supply, but could be rigged up with batteries for outdoors and mobile applications.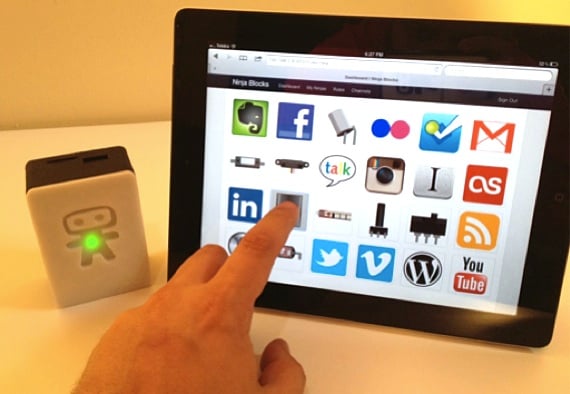 You code the Ninja Block through 'if... then' rules entered on a web page
The Ninja team is currently taking orders for Ninja Blocks through pledges made on find-me-funding site Kickstarter - the more you pledge, the more kit - and other goodies - you get. Ninja Blocks ship their kit internationally. ®
COMMENTS
Re: Platform neutrality
*Cue gang of Russian hackers in dimly-lit bunker, lined with plasma TVs and big LCD monitors*
<Hacker 1> Ve're een! Haha! American knows nothing of what we are doing heem!
<Hacker 2> Egcellent Vasily! Now, let's get to vork - goodbye, benk account, American!
<Hacker 3> Wait meenute. This is not benk acount.
<Hacker 2> ...
* two hours later *
<Hacker 3> Ahah! I am turning toaster on AGAIN!
<Hacker 2> Look, Yevgeny, theater screen UP, theater screen DOWN, theater screen UP, theater screen DOWN!
<Hacker 1> Oh ho! Am moving webcam! See face of dog here!
Both board and box have rounded corners. Are Apple's lawyers aware of this?
Re: but but but
the "web bollox", which I assume is a technical term, is actually served from the box itself, which you can connect to from any web-browsing PC, laptop, mobile phone, tablet attached to the same local network.
Or so I assume. It would be madness itself to do this in a cloudy fashion. "grr" indeed.
but but but
Why does it seem like I need to use their web bollox to manage the sensor info? Every damn time I seem some fun-and-even-slightly-useful gadget like this, they want to tie me into their website. So I don't buy it after all. /grr
Platform neutrality
By serving from a tiny webserver built into the box, it becomes easy to administer it no matter what platform you use. That's also why web servers are the interface of choice for many home servers (both software and hardware). Just point to its address and go. Now, granted this poses some security concerns, but for a tinker toy like the NinjaBox, barring something absolutely outrageous, the implications are probably too small to be of any consequence.