Apple claims its 'innovation' creates 514,000 US jobs
Quoth Twain: 'Lies, damned lies, and statistics'
Apple has launched a web page entitled "Creating jobs through innovation" that cites what it claims are statistics that show it's responsible for creating or supporting 514,000 jobs in the US.
According to Apple, a study by the Analysis Group determined that Cook & Co. has "directly or indirectly" created 304,000 jobs spread throughout all 50 states. The remaining 210,000 jobs, Apple says, were created in the "app economy" – their portion of the 466,000 US jobs in the TechNet study The Reg told you about last month.
The Analysis Group, which describes itself as providing "economic, financial, and business strategy consulting to law firms, corporations, and government agencies," did not immediately answer our queries as to whether Apple commissioned the study, whether they did it on their own (unlikely), or whether is was part of their work on an Apple lawsuit last year concerning – what else? – patent infringement.
Such job-creation statistics are diaphonous at best. Apple does, however, provide a bit of help in determining what's what, such as the fact that they directly employ 47,000 souls in the US – just about 9 per cent of the claimed total.
The remaining "indirect" jobs, says Apple, come from "the development and manufacturing of components, materials, and equipment; professional, scientific, and technical services; consumer sales; transportation; business sales; and healthcare.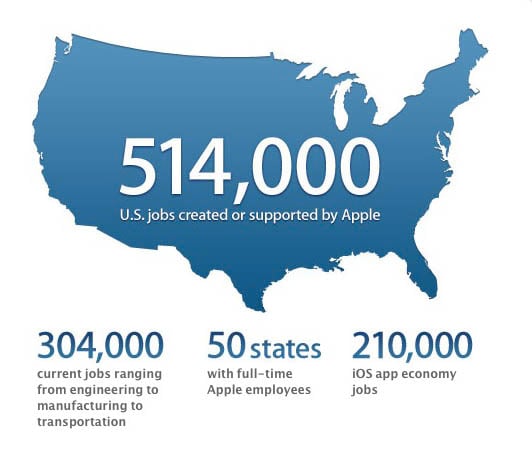 Over one-half million served by a one-half trillion dollar company
In a footnote, Apple implies that these job-creation figures are, in fact, conservative. "These numbers do not include an estimated 187,000 additional jobs that have resulted from the increased spending of individuals and households whose income is directly or indirectly tied to Apple's economic activity," they say.
What they don't say is how many jobs Apple has eliminated from the US economy, not only by moving its manufacturing and parts-sourcing to Asia, but also by decimating such competitors as RIM, HP's webOS team, and third-party Apple retail.
Capitalism being capitalism, of course, there's nothing inherently heinous about one business succeeding by bringing another business down – it's a dog-eat-dog world, after all. But it is important when looking at "jobs created" numbers to keep in mind the number of jobs that were eliminated to support the ones created.
And speaking of capitalism, we can't help but notice the title to Apple's somewhat defensive rebuttal to those who accuse it of harming the American economy by offshoring its manufacturing: "Creating jobs through innovation".
If you've been following the meme parade in American business jargon these days, you may, like The Reg, have become mightily sick of the word "innovation", which is now so overused that it is losing all meaning.
IBM, for example, has its Global Innovation Outlook, known by its TLA of GIO. HP Labs has its Innovation Research Program, which goes by the rather less euphonious TLA of IRP. Intel's once–trendily monikered Innovation@Intel is now simply Intel Innovation. The Consumer Electronics Association's Innovation Movement even asks supporters to sign its Declaration of Innovation.
Politicians have gotten aboard the innovation bandwagon, as well. Barack Obama has his Educate to Innovate campaign and his Strategy for American Innovation, uh, strategy. Republican presidential candidate Mitt Romney declares his "passion for innovation," while his foe Rick Santorum writes about "unleashing American innovation."
There's even a card game, magazine, and a maker of double-bass strings named Innovation, fer chrissake.
Perhaps Apple might consider a more innovative way to assure us all that what's good for Cupertino is good for the good ol' US of A. ®
Sponsored: Minds Mastering Machines - Call for papers now open