Now Apple opens fire on EPAD trademark in China
Cupertino blasts laptop bag maker ebox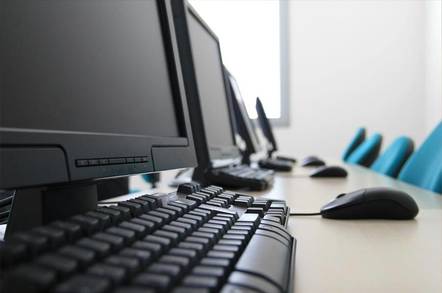 Apple has filed an official complaint over an application for the EPAD trademark by Guangzhou-based computer kit maker ebox.
The peripheral biz applied for the EPAD trademark in August 2010 and about a year later passed the first stage of approval by China's Trademark Office, according to a report on Sina Tech. Apple filed its objections this week.
The group, and specifically its ebox Digital Technology Product company, produces mobile computing peripherals such as mice, headsets and cases and bags, including a large range of iPad and iPhone accessories. It produces these on an OEM basis and even sells to Apple manufacturing behemoth Foxconn, but also exports to regions including North America and Asia under its EBOX and EPAD brand, according to the report.
However, a search on the ebox site did not return any products labelled with the EPAD trademark.
Apple has asked the Trademark Office to reject the Guangzhou company's application or it will take matters further. Its beef is that ebox is deliberately trying to register a trademark similar to "iPad", knowing full well that the shiny fondleslab already has widespread recognition.
The Reg is still waiting to hear back from Apple and ebox for further comment on the dispute.
Mark Natkin, managing director of Beijing-based IT consultancy Marbridge Consulting, told El Reg that Apple would be pursuing this one rigorously, given that it has no fear of any revenue loss if the case drags.
"Battles of attrition, potentially involving significant legal costs for both sides, don't usually pan out well for the little guy unless he can cause a lot of pain for the other party along the way," he added.
The news comes as a Guangdong court retired to consider the evidence presented in a high-profile appeal case filed by Apple, which seeks to overturn a previous decision denying it the right to the iPad trademark in China.
A day-long hearing ended without a judgment, but the court asked both Apple and failed monitor biz Proview – which currently holds the IPAD trademark in the country – to consider reaching a settlement.
Apple argues that it bought the trademark rights from Proview's Taiwanese affiliate years ago for a mere £35,000, although Proview insists that it is its Shenzhen company that owns the specific rights applicable to China.
However, with the expected imminent launch of the iPad 3 next week and scores of cities across China primed to take action and ban the sale of the shiny slabs if the ruling again goes in Proview's favour, Apple may well be forced to open its wallet.
Natkin said it was still too close to call: "Apple has to weigh the potential cost of lost revenues, should the case drag on and significantly delay its launch in China of the iPad 3, against the likelihood that settling will establish a precedent for similar suits by other Chinese firms." ®
Sponsored: Minds Mastering Machines - Call for papers now open