Beat Sneak Bandit
Clock rock
Different drum
Like every great puzzler, Beat Sneak Bandit draws you into its infuriation-elation reward cycle by starting off simple and gradually upping the challenge. As you inch towards the game's thrilling final boss battle, new mechanisms are layered upon each other: airborne vacuums that pursue and suck you up, teleporters that flash you to different floors and levers that freeze time.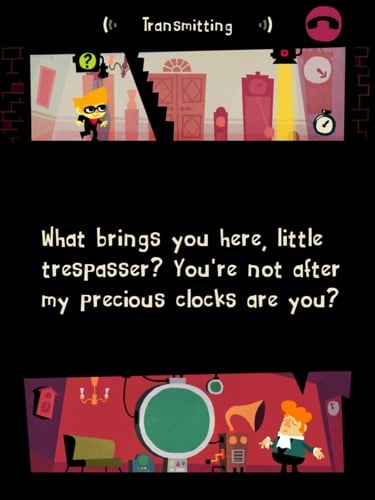 For all its wonderful rhythm, the game's true challenge arrives through dissonance. Moving to individual beats, it can be tough enough to pick out the mechanisms' squeaks, buzzes and swooshes from the hypnotic backbeats, but it's their visual disharmony that most distracts.
Success demands nothing less than Herculean levels of visual and aural focus, as you strain to recognise mechanical patterns through the cacophony of movement and sound. Lengthy play can prove exhausting - especially given the music.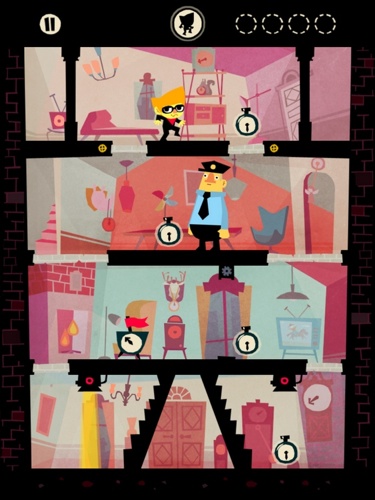 It's all highly infectious drum machine stuff, with catchy hooks sticking in the mind for hours afterwards, but it's too unvaried to prevent tedium during continuous play, meaning Beat Sneak Bandit is best consumed in ten-minute bites.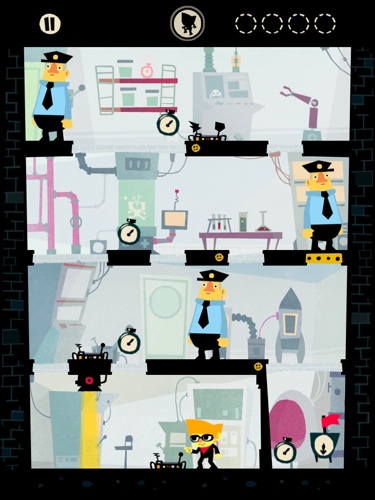 Verdict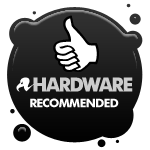 That tedium only detracts slightly from the aesthetic charm and near-flawless mechanics. Like the clocks you're compelled to collect, it's a game exquisitely engineered with meticulous precision. Simple to pick up and difficult to put down, Beat Sneak Bandits easily claims a place alongside the top iOS games. ®
iGamer covers the latest in mobile gaming on Android and iOS. If you think there's a great game we really should cover, please let us know.
More iGamer

Ten top
Android games
Infinity
Blade II
OnLive
The Dark
Meadow
Epoch
Sponsored: Minds Mastering Machines - Call for papers now open

Beat Sneak Bandit
A precisely engineered rhythm-puzzler. For iDevices only.