RIM PlayBook price cut specials become standard
New low price... for now?

The massive reductions RIM has made to the price of its BlackBerry PlayBook tablet are no longer one-offs but appear to have become the norm.
RIM's own online shop now lists the 16GB PlayBook at the "new low price" of $199 (£125) and, as Lilliputing notes, the site no longer refers to the reduction as a special promotional offer.
The 32GB model now costs $249 (£156), the 64GB PlayBook $299 (£188).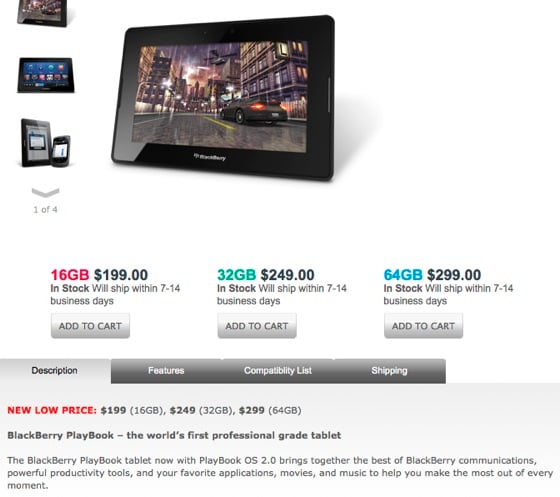 Over here, retailers like PC World are still listing the three PlayBooks' official prices as £399, £479 and £559, respectively, though it's actually charging £169, £199 and £249 - slightly more than the US price plus VAT.
RIM's own UK store still lists the old official prices too, but then the UK does tend to trail the US in such matters. The most recent reductions were implemented in the States in 2011, but weren't made over here until January.
RIM updated the PlayBook OS to version 2.0, a precursor to new PlayBook models: a 10in version for Christmas, but an updated 7in model for April. Perhaps the latter explains the new formal price structure. ®
COMMENTS
Re: Problem is
2/ Consumers would never buy one because it's a dead product with a locked bootloader.
no. consumers did not buy them because they bought the ipad instead
do you really think the average consumer even knows what a bootloader is let alone cares
Re: Problem is
1/ business sometimes buy products with the most silly of names e.g. rational rose or, come to think of it, phones named after certain kind of berry fruit. Does not seem name affects buying decision.
2/ as far as I'm aware, 80% of tablet market is owned by leading device of other fruity brand, with locked bootloader. Does not seem to bother majority of consumers at all.
Also, unlocking PB is actually trivial, just ask RIM nicely for developer keys - they give then away for free and you normally don't have to wait longer than 2 hours. As for Android emulation, it is actually runtime I think - rebuilding from sources does not seem necessary to put any Android app on own device (using developer keys I referred to above), only different packaging.
But what do I know, I actually own one, so obviously am not entitled to comment on it.
Re: Problem is
Yep,
great minds worked on this product
1) Limit the target market to people who already own one of your devices, by not offering your most popular application (BM) unless linked to a blackberry.
2) Call it the "Playbook", a baseball reference that only Americans could interpret as anything other than a name for a leisure device
3) Price it at a premium.
4)....
5) Profit? - I dont think so.
Actually a pretty decent 7" tablet
When the price hit £169 I went and bought one; it's a brilliant little tablet.. nice hardware spec, reasonable number of apps.. esp if you sideload whatever Android apps you want. Easy to root. Absolutely no regrets about buying one, however I don't believe it's worth the original RRP.
RE: Any lower than £125 for a 16GB Tablet?
I think RIM has no choice but to keep PB alive, it is after all the only device where developers can develop for future BB10 phones. RIM badly needs these apps, otherwise they can just give away their market share on phone market. Yes I can imagine sniggering comments below but RIM market share outside of western developed countries is actually quite respectable and enough to ensure future profits - if they don't repeat too many of past mistakes.
Selling the device with hardware spec better than Kindle Fire, at the same price point, and capable of running the same software seems like a good decision to me.