Ellison's Oracle cloud lives as hype winds down
A slow conversion better than no conversion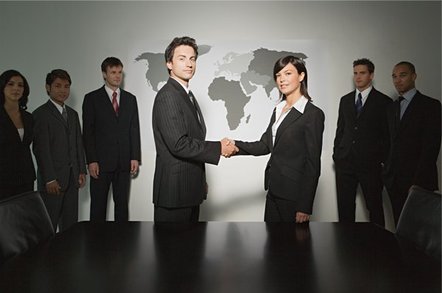 Oracle Cloud Conference For better or worse, Oracle has taken a conservative stance on "the cloud".
Flamboyant chief executive Larry Ellison set the tone in 2008, when he railed against the rampant application of the word "cloud" to describe everything from Google's browser-based email to CRM software as a service from Salesforce, and much in between.
A world-weary Ellison reckoned Oracle would make cloud announcements, but in trademark dramatic style said there would be no real change in Oracle policy.
"We will make cloud comp announcement because if orange is the new pink we will make orange blouses. I'm not going to fight this thing. I don't understand what we'd do different in light of cloud computing other than change the wording on some of our ads," he said here.
Oracle's policy has been to sell the picks and shovels in the shape of databases, application servers, clustering and caching software, and Sparc hardware from the former Sun Microsystems rather than rush for the hills and start prospecting itself.
Its position has morphed along the way: two years after Ellison's cold shower there came the Exalogic Elastic Cloud, delivering "cloud-in-a-box" and described today by Oracle as "the world's best foundation for cloud."
Oracle Public rollout
From this spring, however – nearly four years after Ellison said that it was business pretty much as usual except for Oracle's ads – that policy changes dramatically: the software giant will start panning against Microsoft, Amazon, Salesforce and others as it sells its software on a subscription basis through its own cloud.
Oracle will open Oracle Public Cloud, offering hosted versions of its CRM and HR, plus its database and Java – the latter two called "Database as a Cloud" and "Java as a Cloud". Oracle's cloud will run on Oracle hardware and start running at an existing Oracle data centre in Austin, Texas, currently used by Oracle Managed Services.
We don't know much about the cloud's underlying architecture, such as how it's going to achieve elasticity and crunch big data. It's reasonable to assume, however – given that Oracle Public Cloud will use Oracle hardware – that it will run Ellison's Big Data Appliance and therefore feature Hadoop, and Cloudera's distro in particular.
Competition, 'cloudwashing' and the 'trough of disillusionment'
Oracle's cloud will go up against database as a service offerings from Salesforce, Amazon and Microsoft; and will compete against CRM from Salesforce. On the Java application front, it will have to beat hosting offered by Amazon, Salesforce and Microsoft. Oracle says about the only thing it's not providing is Amazon-style infrastructure.
Has Oracle's cloud conversion come too late, though? Analyst Gartner reckons "cloud" will this year hit the bottom of its famed hype cycle, crashing from a peak of hype into what the mega-analyst calls the "trough of disillusionment".
Gartner said last year
Cloudwashing on the part of vendors across all 34 technology areas is accelerating the entire industry into the trough of disillusionment.
It was a sentiment repeated by Gartner research veep Philip Dawson at the Oracle Cloud Computing conference on Wednesday in London.
"Cloudwashing" sounds suspiciously similar to what Ellison was talking about back in 2008 and it would be ironic if Oracle's cloud should be taken down thanks to the very hype he was lambasting.
Rick Schultz, Oracle's vice president of technology product marketing, told The Reg at his company's event that Oracle isn't late and out of luck. He thinks the hype is being burned away by the experience of deployments and that means money for Oracle.
"We are seeing an up-tick in adoption as people are understanding what the cloud is," Schultz said. "I think what's happening as the real deployments are coming to fruition... there's a little bit of mist around it now and the realities are breaking through."
Gartner reckons the thing that's started tipping cloud over the edge into the chasm was the first outage of the one that started them all: Amazon's EC2 in April last year. Microsoft's Azure crash, which took with it the British government's prestigious G-Cloud Cloudstore, will have helped nudge cloud a little further. "Not a great start" tweeted one predictably unimpressed Cloudstore watcher here.
Too late?
Time will tell whether Oracle under Ellison has been wise or foolish on cloud.
Certainly, Oracle isn't the only top-tier enterprise IT vendor to have come slowly to the cloud: Microsoft's Azure spun up four years after etailer Amazon's EC2.
During this time, Oracle has at least had the opportunity to watch and learn from others: it has, for example, partnered on Hadoop – increasingly an industry standard – rather than float its own architecture, as Microsoft attempted before killing Dryad. Coming ahead of Oracle, meanwhile, has not helped Microsoft reap easy cloud dollars: Windows Azure is making pitiful amounts of money for Redmond.
With the hype evaporating at last, Oracle's Public Cloud can go one of two ways. The more positive outcome would be that it will be left standing in a strong position, selling services built on solid products that plenty of existing customers already use. Oracle will offer then "choice". Oracle has form: Oracle Unbreakable Linux didn't sink Red Hat, as thought, but it was adopted by enough Oracle's customers to justify keeping the distro going.
Alternatively, when the cloud hype crashes and burns, Oracle could find cloud sales harder. Schultz told us Oracle will make Oracle's Public Cloud more attractive by offering a "broad range" of applications made available using the SaaS model.
Either way, with its huge on-premises business and the ability to offer cloud as an extra choice, Oracle can't lose despite being late. ®
Sponsored: Minds Mastering Machines - Call for papers now open