Faster mobile data: the road to 4G
Better LTE than never
Finally, true 4G
LTE Advanced is 3GPP Release 10, a compatible enhancement of LTE designed to bring the technology up to the ITU 4G speed stipulations.
LTE Advanced can aggregate up to five LTE radio channels into one – so if given 20MHz-wide channels, it could treat them as a single 100MHz-wide channel. LTE Advanced also opens up more possibilities for changing cell infrastructure, such as subdividing cells, and supports more antennæ in MIMO configurations – eight downstream and four up, as opposed to four down and one up. Devices can be used while moving at higher speeds – right up to 500km/h.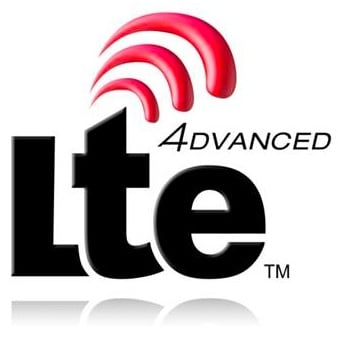 LTE Advanced: at last, true 4G
LTE Advanced is expected to be finalised this year. The WiMax 2 (802.16m) standard has already been ratified. Like LTE Advanced, it boosts speeds to the 4G-defining 100Mb/s for users on the move, and 1Gb/s for stationary users.
Eventually, all the world's current 4G networks - the many based on LTE, none of which yet offer 4G speeds, and the few on WiMax - will be upgraded to these true 4G technologies. Suitably-equipped phones will be able to talk to both LTE Advanced and CDMA 2000 networks, and conceivably WiMax as well, with which LTE Advanced shares its OFDMA multiplexing algorithm.
Blighty behind the curve
Here in the UK, we're well behind. There are commercial LTE roll-outs in many parts of the world, but here there are just a few, closed trials. Ofcom currently anticipates LTE being implemented in the UK in 2013-14, with "wide availability" by 2015.
Ofcom plans to begin auctioning 4G service licences later this year, but there's a real possibility one or more incumbent telcos will challenge the regulator in the courts.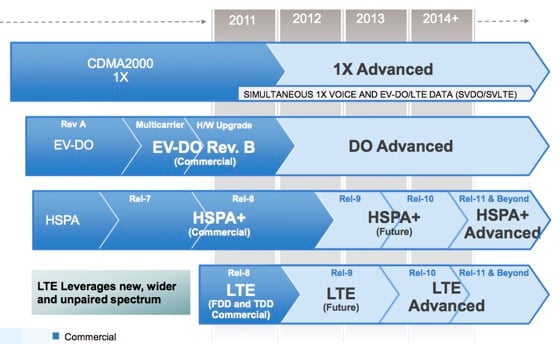 HSPA+ runs in parallel with the LTE-to-LTA Advanced shift
Source: Qualcomm
The advantage of waiting, though, is that we're likely to cut straight to LTE Advanced and the proper 4G speeds. And while we miss out on the growing range of LTE-equipped smartphones and tablets shipping in the US - the next iPad, for instance, is expected to support LTE, as do incoming top-of-the-line Android phones - we'll also bypass the massive battery drain that LTE creates. By 2015, hopefully, power packs and devices' power conservation algorithms will have properly adjusted to the network technology.
In the meantime, we have the ongoing evolution of HSPA, now capable of 21Mb/s and with the potential to attain 84Mb/s using HSPA+ - aka "Evolved HSPA", aka "3GPP release 7" - technology, though only Three is pitching this. ®
Tony Smith contributed to this feature
Sponsored: Minds Mastering Machines - Call for papers now open