Dell has rapier-thin blade server in the works
En garde!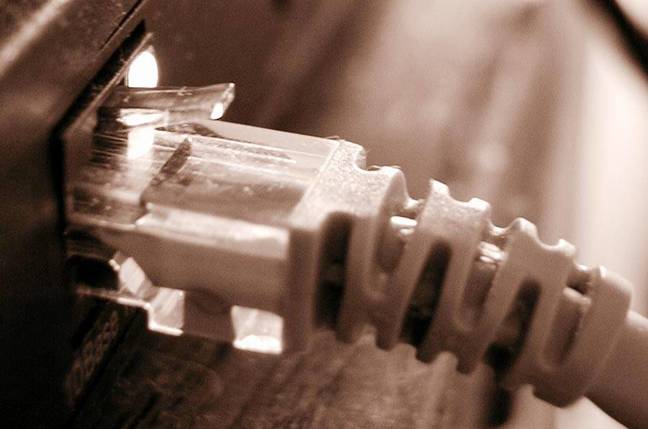 Dell is pushing the lower limits of blade servers up against microservers.
As El Reg has already told you in detail, Dell this week is previewing its PowerEdge 12G family of servers. The company divulged six different machines – one blade, one tower, three racks, and a cloudy box – but as it turns out, there is at least one more 12G machine in the works.
During his presentation at a launch event in San Francisco this week, Forrest Norrod, general manager of server platforms at Dell, whipped out this rapier from behind the podium: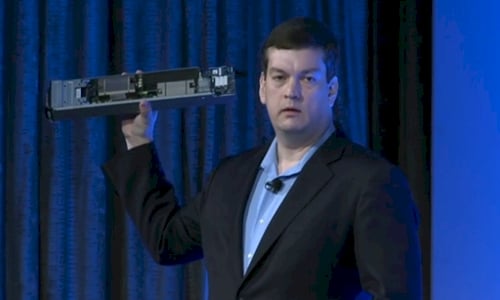 Dell's Forrest Norrod holding a baby blade server: En garde!
This machine, which he called the PowerEdge M420, was not disclosed by the Dell marketing and product people in their prebriefings with El Reg and was not mentioned in any of the presentations, either. But the M420, said Norrod, is a quarter-high two-socket blade server. That doesn't mean it is as high as a quarter, but rather that you can stack four of them up vertically in a slot in the 10U PowerEdge M1000e blade server chassis. This chassis is eight blades wide, so that means you can get 32 server nodes in a chassis and 128 nodes in a rack.
This being a two-socket blade server, the M420 is not, by Intel's technical definition, a microserver, which the chip giant says has a single processor socket and four memory slots and which does not have integrated switching and systems management like blade server enclosures have for their blades.
It is not clear what processor Dell will make available in the M420, but the fact that the name does not end in "5" means it is not using an Opteron 4200 or 6200 processor from Advanced Micro Devices. The only current Opteron-based blade in the PowerEdge 11G server lineup is the M915, which is a quad-socket box aimed at memory-intensive workloads.
So the fact that the name ends in a "0" means it is running a Xeon processor and that also almost certainly means it is a "Sandy Bridge" Xeon E5 variant. If I had to guess – and I do – I would say it is a machine with a single disk, crimped memory capacity, and limited I/O that was aimed at precisely the same density that microservers are shooting for, but with a larger memory footprint and more energy efficient processors than the current Xeon E3-1200 chips in the Sandy Bridge generation can offer. ®
Sponsored: Are DLP and DTP still an issue?