Wii workouts unlikely to improve fitness
Researchers suggest compensation
Trying to keep your nippers in trim with a Nintendo Wii workout may be pointless. Research suggests motion-controlled videogame systems do very little to help kids fulfill their daily exercise requirements.
The study, conducted by a team from the Baylor College of Medicine in Houston, Texas, saw 78 children handed Wii consoles for the first time, with half offered get-up-on-your-feet game Wii Sports and the others given the sit-down-to-play Super Mario Bros. Midway through the 13-week study, the children switched titles.
Daily physical activity levels were tracked with a motion-measuring kit and, perhaps surprisingly, there was no noticeable difference between the sets of children and how much they exercised overall.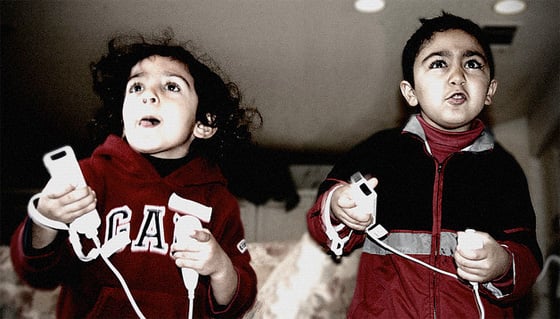 The research team said they were unsure whether such games actually required less energy than expected to play - or if the kids were simply compensating for exercise they received on the Wii with periods of inactivity during the day.
Either way, the study concludes that there is no evidence to suggest motion-based videogame systems improve fitness.
Jacob Barkley, an exercise boffin from Kent State University in Ohio, told Reuters that while there may be some weight to the study, gaming on the Wii could still be helpful in the quest to cull calories.
"Maybe the Wii isn't going to increase physical activity a whole heck of a lot," he said. "But it might increase caloric expenditure a bit more than a traditional sedentary video game, and if you do that on a daily basis that could have a cumulative effect that might be beneficial."
For further reading, have a ganders at the team's study, titled 'Impact of an Active Video Game on Healthy Children's Physical Activity'. ®
COMMENTS
Re: Control Group?
They ended up with bladder problems.
On a sample of 1
I can tell you that my lad quickly worked out that he didn't need to jump around with any Wii title - he just needed to be able to do an action that the Wii interpreted as the right one... often far more accurately than when doing the "proper" action.
"The research team said they were unsure"
A waste of time and money research. I could have told them there's a big difference between playing Wii bowling, baseball and tennis (providing your style is get up off the floor), than sitting at the desk playing COD with a mouse.
"motion-controlled videogame systems do very little to help kids fulfill their daily exercise requirements"
Who said they did 'fulfill' those requirements?
A walk in the park doesnt fulfill those requirements, but Im sure the medical team would agree it is a healther option than sitting on the sofa twiddling thumbs.
Motion games
None of the Wii ones seem to be accurate, I try properly and get beaten by a small child not doing it properly. Definately not impressed by Wii sports.
The balance board does seem to work but is boring, but I'd rather go for a walk than watch cartoony graphics around an island.
The one game which does exercise and can't fool is sports champions on PS3 - that does tire you, and small children cannot get away with mad flicking, however again I think I would prefer a walk.
The one motion game I play a lot (well over 200 hours) has made no difference to my weight, but then I just sit down with fore arms supported and shoot a lot.
Yep!
It's no problem at all playing Zelda while sitting comfortably on the couch... ;-)