Samsung punts smartphone with built-in projector
Beam me up, Sammy
MWC 2012

Samsung lit up MWC this week, bringing the Samsung Galaxy Beam to Western markets. It's a phone that lets users to cast content directly onto walls using its built-in projector.
The Samsung Galaxy Beam was first launched in Singapore in July 2010, although the feature of a built-in pico projector did little to propel the handset up the popularity charts.
Almost two years down the line, though, and Samsung reckons the time is right to revisit the prospect, pitching a refreshed Galaxy Beam to the rest of the world.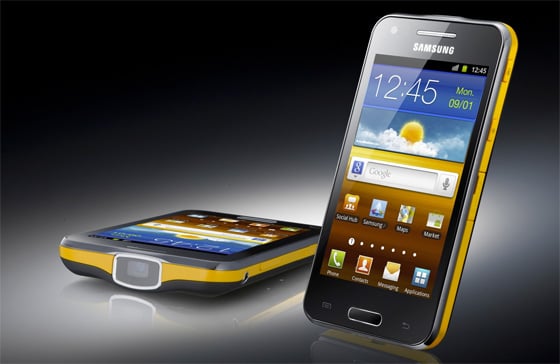 The Beam now packs a 4in, 480 x 800 display and a 1GHz dual-core processor running Android 2.3 Gingerbread.
There's also 8GB of internal memory expandable to 32GB through Micro SD cards, and a 2000mAh battery.
The projector itself is able to cast a 50in beam with a 720p resolution, the perfect weapon in the quest to bore family members when returning from holiday with hundreds of self-absorbed snaps.
Pricing and availability have yet to be announced. ®
COMMENTS
Re: 50 inch beam?
Well if it didn't work, Samsung would probably say that you were holding it wrong.
Then Samsung would get sued over their slavish copying of original Apple excuses......
50 inch beam?
What happens if you hold it 51 inches from a suitable screen? Do all the photons from the projector just stop short or something?
What a load of bollocks. :)
You want the XPhone, search youtube for a video demo
well weapon
Shades of the Wasp T12 Speechtool from Nathan Barley... I can see myself putting this to a similar use (ie projecting insults on people in the pub).
Still waiting for the electric kettle/coffee machine phone.
With the recent waterproof coatings and quad cores should be doable, just run a CPU heavy process and drop the phone in a mug of water. Just needs to be food safe.
Come on Samsung.