Raising arms
OK, so Syndicate's plot won't win awards for originality, but how about its gameplay? Well, it certainly won't win any awards either, but at least it's original.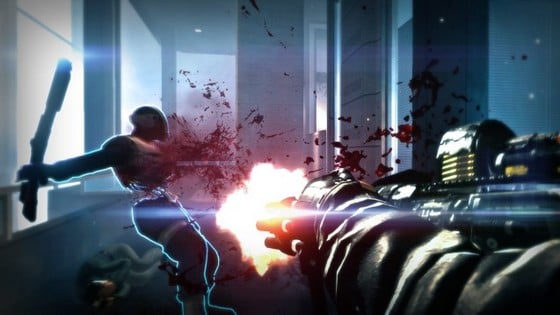 Splat's the way
To complement the decent, if unremarkable gunplay, your character is fitted with DART 6, a bleeding-edge cybernetic chip, granting bullet-time and thermal imaging, some passive modifiers and the ability to 'breach' machinery and other cyborgs.
Breaching is at the heart of gameplay. It can be used to hack doors and gun turrets, break the shields of tough enemies and even disarm rockets and grenades. But its most integral use are three special hacking powers used to inveigle or dominate enemy cyborg minds.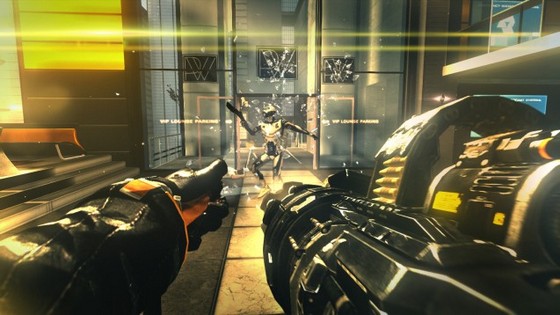 Cracked the droid
Backfire causes your opponents' weapons to overload, stunning them momentarily and dealing damage. Suicide forces an enemy to prime a grenade and kill himself and anyone in close proximity. And Persuade causes an enemy to fight on your side temporarily before turning the gun on himself.
As usual, there's a catch. The DART 6 chip is powered by adrenaline, which is raised (conveniently) by pulling off quick kill streaks. The more kills strung together, the more you can breach. It's a device which sounds intriguing enough. After all, we're used to such devices defining and driving unique gameplay.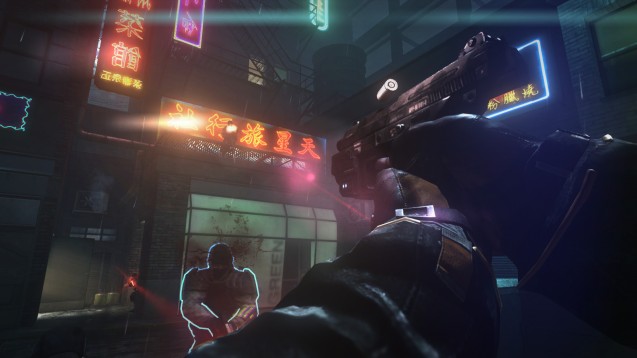 Top shots
But Syndicate fails to construct its gameplay around these mechanics. Its tricks never feel anything more than... well, tricks. Breaching always feels ancillary to combat, offering no true novelty and feeling little more than a mildly interesting grenade type, one whose scripted consequences soon become repetitive.
COMMENTS
predictable
I was really looking forward to a reboot or modernisation of Syndicate. the original was endless fun, back in the day, and surely with today's graphics and techniques it would be a no brainer to produce a modern day classic
but when i heard they were moving it to FPS, I lost interest as I just knew it''d end up the way this review describes it. such a shame, was really looking forward to a squad based rts
What a pity. Though with that EA logo on the front, it is to be expected. They seem to follow the same formula: rip the soul out of what made the wonderful original and slightly wobbly sequel excellent, add a dash of greed and Et Voila. Another of EA's contributions to modern gaming.
60% is very generous.
Got to say, this game is a huge let down.
As it originates from an Amiga game, it seems appropriate to award a mark on the scale Amiga Power used to use. i.e. 50% indicates an "average" game rather than the screwed up scoring system we seem to use these days of 75% indicating an "average" game.
So on that basis, I reckon the new Syndicate is worth no more than 25%.
Obligatory
I never asked for this.
How to ....
..... kill a legendary game
Dosbox for me with my old CD please, thank you!