Toshiba Portégé Z830-10N 13.3in Ultrabook
Five and a half hours on the road
Seeing the light
The keyboard is backlit with white light shining through the letters on the keycaps, although it is not obvious to me when the backlight is supposed to operate automatically. I would have thought that working in a dark room would turn it on, but apparently not always: as far as I can determine, the backlight comes on and goes off according to the Z830's mood.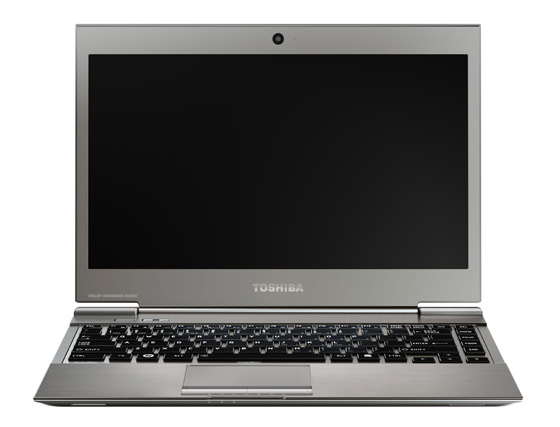 Backlit keys or mood lighting?
The keycaps look small with a rectangular button-like appearance but the keyboard is pleasant enough to type on. My only complaint here would be with the two vertical cursor keys, which are so close that it is impossible to distinguish one from the other by touch alone.
In front of the keyboard is an 8.5 x 5cm trackpad plus two shiny click-buttons at the front edge. Synaptics TouchPad drivers support one- and two-finger gestures inclusing scroll, zoom and rotate. Best of all, the touchpad is highly sensitive and only requires a gentle touch, making for fast and efficient manipulation.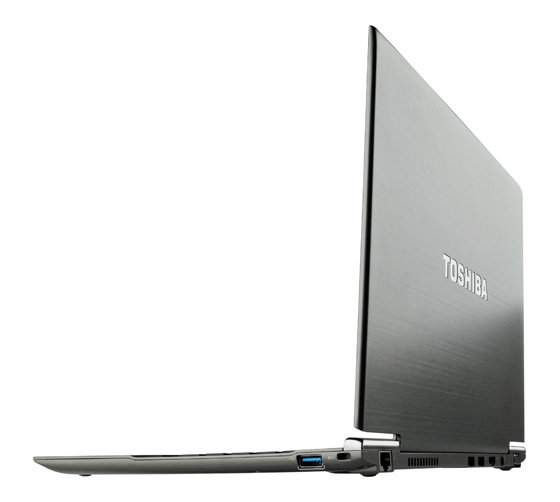 Despite the rugged appearance, the display flexes all too easily and is tweakable
There is a row of LED status icons in front of the click-buttons, which seems an odd place to put them, considering that they'll be hidden under your hand most of the time. They tell you things such as whether the computer is on or off, whether you have enabled Eco mode and whether Wi-Fi is enabled – but the buttons and keys that control these features are on the other side of the keyboard. Why not put the LED status icons there instead?
Despite the 13in size of the screen, it supports a native resolution of 1366 x 768 pixels, which is more commonly employed for 11in displays. Still, it's bright and clear, except in Eco mode, whereupon it becomes murky and illegible. It also suffers from the viewing angle limitation that most notebooks suffer from, so you'll need to tilt it back and forth a fair bit before finding that visual sweet spot.
Benchmark Tests
PCMark 7 Results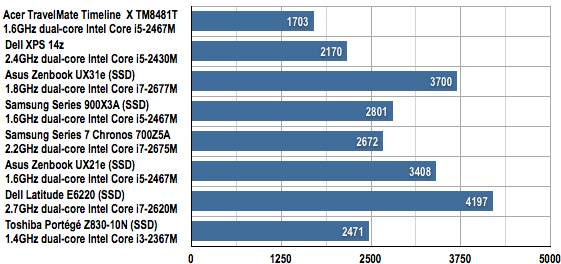 Longer bars are better
On a much more positive note, I applaud Toshiba for taking the trouble to provide full-size connectivity ports for VGA, HDMI and Ethernet in addition to a USB 3.0 and two USB 2.0 ports. This is probably the only Ultrabook on the planet that you can take with you anywhere without needing silly little adapters. Flying in the face of conventional Ultrabook design, the Z830 even has some of the ports arranged along the back edge, and they are well-spaced so that, for instance, you can plug in a memory stick without obscuring adjacent ports.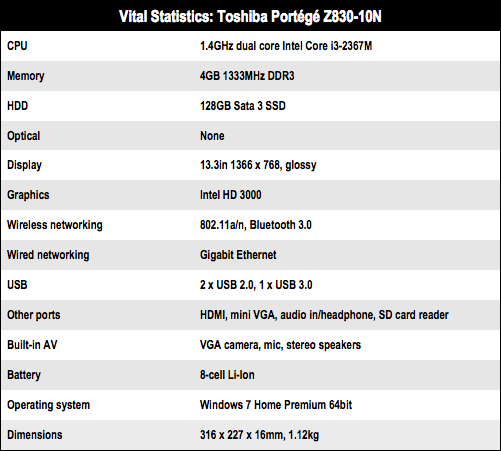 Sponsored: Minds Mastering Machines - Call for papers now open