Steelseries SRW-S1 PC gaming steering wheel
Taken for a spin
Going for a paddle
The grips of the steering wheel and the paddles at the back have a solid smooth quality feel to them. Ideally, this wheel should be wireless but I'm guessing that it's not to keep the weight down. Still, the nice long cord gave me plenty of leeway. The buttons and knobs have good, positive click action, so there's no fear of clicking spin when you actually want to lock. But where's the stand?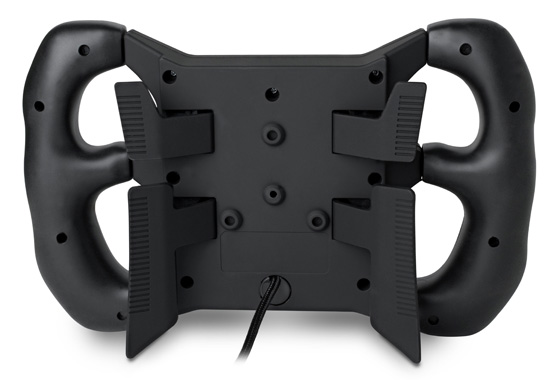 Paddles at the back control a range of functions
I didn't really like the idea of resting this on the back paddles but it's the only choice. I can immediately see a problem, I am having to hold the SRW-S1 up throughout gameplay. At about 2lbs it's not that heavy and I guess boy racers with big biceps won't have a problem but it was only about 20mins in that my wrists began to ache – lactic acid is not my friend.
Girlie grumbles aside, I tried the SRW-S1 firstly on Blur which is my preferred PC racing game but it doesn't involve any gear changing. Still, being able to hit more power ups due to increased accuracy was quite an eye-opener. Next up was iRacing which went on far too long without fatigue but was crucial to give this wheel a proper work out.
Helpfully, the SRW-S1 is compatible with any racing game you can buy from Steam but definitely works most intuitively with Simraceway. I spent some time playing this title which is the dedicated on-line game for the SRW-S1 – you download from its website for free and it comes in at about 1GB.
Plenty of options, but lacking a stand gameplay can be fatiguing
Simraceway gave me the opportunity play with all buttons and knobs I hadn't used in iRacing, such as assist and assist values. Even these tweaks left me convinced that, ultimately, the SRW-S1 is really all about the steering.
I felt completely in control and I actually started to enjoy myself playing a racing game in a way that I never thought I would. In real life, I've often been saved by the fact that I drive so slowly, but when gripping the SRW-S1 I want to go fast; experiencing a level of accuracy I wouldn't get using a Xbox 360 or PS3 controller.
Verdict
Having spent many a happy hour motoring with the Steelseries, I am now convinced wheels are essential for any racing game. In my experience, the transformation in gameplay is worth the investment. Indeed, the Steelseries SRW-S1 is a fine starter wheel that has set my thoughts racing over investing in a Logitech G27 Playseat, once my McLaren sponsorship has been finalised. ®
More AV Gear Reviews

OnLive
Game System
cloud gaming console
Sony
HMZ-T1
3D headset
Toshiba
Qosmio X770
3D gaming laptop
Ten...
gaming headsets
X-Dream
Rocker wireless
gaming chair
Sponsored: Minds Mastering Machines - Call for papers now open

Steelseries SRW-S1 PC gaming steering wheel
SteelSeries and Ignite Gaming team up to produce steering wheel for PC gamers and optimised for Simraceway.